With Brett Kavanaugh, Trumpism ascends to the Supreme Court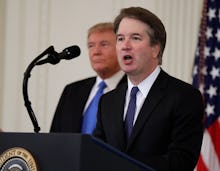 Brett Kavanaugh may be poised for confirmation to the Supreme Court following the "limited" FBI probe into the sexual assault allegations against him.
"The White House is fully confident the Senate will vote to confirm Judge Kavanaugh to the Supreme Court," White House spokesman Raj Shah said Thursday in a statement announcing the FBI had completed its investigation into President Donald Trump's second nominee to the nation's high court.
As Democrats — including Sen. Dianne Feinstein (D-Calif.), the ranking member on the Senate Judiciary Committee — slammed the FBI probe as "incomplete," Republicans said the investigation supported their position that the sexual misconduct accusations against Kavanaugh are "uncorroborated."
Perhaps most notably, Sens. Susan Collins (R-Maine) and Jeff Flake (R-Ariz.), two key swing votes who had raised concerns about Kavanaugh's confirmation, suggested Thursday they could vote "yes" after reviewing the FBI report. Collins said she believed the investigation was "thorough," and Flake — whose previous suggestion he could tank Kavanaugh's confirmation triggered the probe — said the report contained "no additional corroborating information" to back up Christine Blasey Ford's claims.
If they do vote "yes," that could be enough to elevate Kavanaugh to a lifetime appointment on the Supreme Court, a move that would remake the nation's high court in Trump's image.
Indeed, while Neil Gorsuch, Trump's first pick to the Supreme Court, was a deeply conservative nominee, Kavanaugh seems deeply Trumpian — hyperpartisan, temperamental and conspiratorial.
Kavanaugh, who worked on the Ken Starr investigation into former President Bill Clinton and served in the George W. Bush administration, was openly hostile to Democrats during an emotional hearing on his sexual assault allegations Sept. 27. He described the accusations as a "political hit" and suggested — without evidence — Democrats were seeking "revenge on behalf of the Clintons."
Kavanaugh's testimony, which included several testy exchanges with Democratic committee members, was stunningly political and angry for a potential Supreme Court justice and raised significant questions about both his temperament and his ability to serve as an impartial judge.
"He was very combative," Margaret Russell, associate professor of law at Santa Clara University, said in a phone interview. "I was shocked that he didn't have more control over himself."
The deeply partisan hearing, during which Sen. Lindsey Graham (R-S.C.) and other Republicans angrily defended Kavanaugh, could damage the public image of the Supreme Court, Russell added.
"The more that these hearings just look like political brawls, the worse," she said.
Of course, Kavanaugh appeared to be playing to an audience of one: Trump, who had reportedly been frustrated with the way his nominee initially defended himself against Ford's allegations and was apparently pleased by the judge's more pugnacious approach.
"Judge Kavanaugh showed America exactly why I nominated him," Trump tweeted after the judge's testimony. "His testimony was powerful, honest and riveting."
It makes sense he'd think so; Kavanaugh's testimony mirrored Trump's own aggressive approach to accusations of wrongdoing, from possible collusion with Russia during the 2016 election to the numerous sexual assault allegations that have been leveled against him.
"[Kavanaugh] does not seem to have [a judicial temperament] at all," Anisha Singh, senior organizing director for Generation Progress, the youth engagement arm of the Center for American Progress, said in a phone interview Thursday. "How can we trust that he would be bipartisan and fair?"
It's not just Kavanaugh's disposition and partisanship that make him distinctly Trumpian. His record — which includes conservative views on abortion rights and a broad view of executive power — also seems to align with the president's agenda.
"Across all issues, you see him lining up very well with Trump and his agenda," Singh said. "The sexual assault allegations have just added to that."
Kavanaugh has been publicly accused of sexual misconduct by three women.
Ford, a psychology professor at Palo Alto University whose allegations first surfaced in the New Yorker and the Washington Post in September, described during her stirring testimony Sept. 27 how a drunken Kavanaugh allegedly forced himself on her during a gathering when they were teenagers in the early 1980s.
Her testimony appeared convincing, but Trump and his Republican allies defended Kavanaugh against her allegations. Trump initially showed some restraint in doing so, but has since attacked Ford's credibility on Twitter and mocked her during a Mississippi campaign rally Tuesday, eliciting laughs and cheers from supporters.
In a wild press conference before the latest Kavanaugh hearing, he also suggested he identified with the judge over Ford because of the "numerous accusations" against him personally, which he said were leveled because the women "want fame, they want money, they want whatever."
"When I see it, I view it differently," Trump said of sexual assault allegations against powerful men.
Democrats say Trump's comments, and the continued push to confirm Kavanaugh despite the allegations, have been "unsettling" and demonstrate "why victims are so reluctant to report the assaults."
"Every day the world has watched our nation's leaders insult, discount and ignore survivors," Rep. Val Demings (D-Fla.), a member of the House Judiciary Committee, said in an email interview. "The negative message to young girls has been unsettling."
"I'm here to say that girls DO matter. I want my granddaughters, and all of our daughters, sisters, mothers and wives to live in a world that treats them with the dignity and respect they deserve as human beings."
The Senate is set to hold a procedural vote Friday on Kavanaugh's nomination, which could set up a final confirmation vote over the weekend.
His fate will likely be decided by three Republican senators who have been regarded as swing votes on his nomination: Flake, Collins and Lisa Murkowski (R-Alaska). The votes of two red state Democrats, Sens. Joe Manchin (D-W.V.) and Heidi Heitkamp (D-N.D.), are also being closely watched.
It was unclear Thursday afternoon if the GOP had the votes to send Kavanaugh to the bench. But Singh said the heated, politically charged confirmation process itself has already had a negative impact on the Supreme Court.
"The judiciary has been tainted," Singh said. "The partisanship in Congress and in the executive branch has leaked into the judicial branch."