Who's Sorry This Week? Kim Kardashian West, Kyrie Irving and other public apologies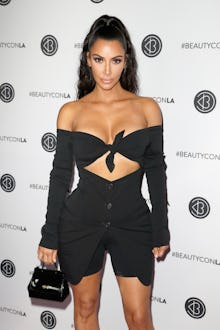 Well, we've made it through another week of mistakes and mess-ups. What can we say, we humans are imperfect creatures.
In Who's Sorry This Week? Mic tracks down the most prominent mea culpas from celebrities, companies and other public entities trying to make amends for their various screwups.
Let's take a look at this latest round of apologies.
Kim Kardashian West is sorry for her insensitive comments about weight
This is the second week in a row with a Kardashian apology! This time it was mega-celeb Kim Kardashian West apologizing for comments she made in a video shared on Instagram in July. The video, posted on Instagram stories, showed Kardashian West speaking about her weight loss, and saying, "Thank you," when her sister, Kendall Jenner, said she was concerned that Kardashian West wasn't eating, E! News reported.
The comments drew criticism for seeming to make light of, or even celebrate, disordered eating. In an interview on the podcast Pretty Big Deal With Ashley Graham this week, Kardashian West apologized for the insensitivity.
"I honestly, looking back in having said that, I 100% completely understand where people would be coming from that felt that way," Kardashian West said, according to E! News. "So my intention is never to offend anyone and I really, you know, apologize if I offended anyone, because an eating disorder is... I know people that have serious eating disorders that have been in and out of the hospital for 15 years — close people. So I've like, been through, I have experienced it enough to have known better."
Kyrie Irving is sorry he said the Earth is flat
Boston Celtics point guard Kyrie Irving is sorry he said the Earth is flat, which means somewhere, Neil DeGrasse Tyson is probably breathing a sigh of relief. As ESPN reported on Tuesday, back in February 2017, Irving said on a podcast that "The Earth is flat," adding, "It's right in front of our faces. I'm telling you, it's right in front of our faces. They lie to us."
But on Monday, Irving apologized for spreading a weird and easily disprovable lie in an interview at Forbes' Under 30 Summit in Boston, saying that at the time he made the comments, he didn't appreciate the impact they would have.
"At the time I didn't realize the effect," he said, according to ESPN. "I was definitely at that time, 'I'm a big conspiracy theorist. You can't tell me anything.' I'm sorry about all that. For all the science teachers, everybody coming up to me like, 'You know I have to reteach my whole curriculum!' I'm sorry. I apologize. I apologize." It's OK buddy, we've all been there.
Facebook is sorry it exposed your data to hackers
On Sept. 28, Facebook announced that a security breach had affected nearly 50 million users and exposed their personal data to hackers who had managed to breach the site, according to Vox. Basically, hackers had discovered a way to exploit Facebook's "View As" feature to gain access to people's personal accounts. So if Facebook forced you to logout and reenter your password, that's why.
In a statement from Guy Rosen, Facebook's vice president of Product Management, the company officially apologized for the security breach. "People's privacy and security is incredibly important, and we're sorry this happened," Rosen wrote. "It's why we've taken immediate action to secure these accounts and let users know what happened."
Fan Bingbing is sorry she didn't pay her taxes
In case you hadn't heard, Chinese actress Fan Bingbing, one of the country's most popular and highest paid stars, mysteriously disappeared in July. As the Guardian reported on Thursday, her Weibo account — the Chinese equivalent of Twitter — went dark over the summer, leaving fans wondering where she went. She wasn't seen or heard from for months, but some speculated that she was in trouble with the Chinese government for avoiding to pay taxes on her full salary from recent movies.
But, as Variety reported, Fan sort of returned to the spotlight recently, ending months of speculation by issuing a suspiciously deferential letter of apology on her Weibo account on Wednesday. The letter seemed to confirm that she had committed some sort of tax evasion.
Translated into English, it reads, in part, "I feel ashamed and guilty for what I did, and here, I offer my sincere apology to everyone. For a long period of time, I did not uphold the responsibility of safeguarding the interests of my country and our society against my personal interests. ... I completely accept the penalties given by the taxation authorities after their thorough investigation. I will follow the final order given by the taxation authorities and will do my best to raise funds to pay back the taxes and fines."
Well, Fan is back, but as the Guardian reported, we may never know exactly what she went through in the three months she was absent from the public eye.
Bette Midler is sorry for tweeting that "'women are the n-word of the world'"
On Thursday, actor Bette Midler sent out a since-deleted tweet saying, "'Women are the n-word of the world,'" in what was likely a reference to a 1972 song with similar title by John Lennon and Yoko Ono. The message continued, "Raped, beaten, enslaved, married off, worked like dumb animals; denied education and inheritance; enduring the pain and danger of childbirth and life IN SILENCE for THOUSANDS of years. They are the most disrespected creatures on earth."
Needless to say, people were not happy about the message, and Midler eventually deleted the tweet and issued an apology on Thursday night. "The too brief investigation of allegations against Kavanaugh infuriated me," Midler wrote in a tweet. "Angrily I tweeted w/o thinking my choice of words would be enraging to black women who doubly suffer, both by being women and by being black. I am an ally and stand with you; always have. And I apologize."
Oct. 5, 2018, 11:36 a.m.: This story has been updated.