Amazon's minimum wage boost will strip hourly employees of bonuses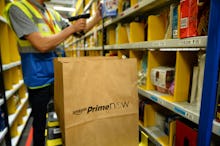 Amazon announced Tuesday it would increase the minimum wage of its workers to $15 an hour. The retailer also announced that its policy team would lobby to increase the minimum wage on a national level.
It appears the changes came with fine print.
Bloomberg on Wednesday reported that Amazon will remove workers' bonuses and stock awards. The raise in pay would be funded by the removal of bonus pay and stock awards. Bloomberg, which spoke with two unnamed sources, noted that Amazon workers saw bonuses to the tune of hundreds of dollars. In a statement, Amazon told Bloomberg that the workers will still see their overall compensation increase, despite losing bonuses.
"In addition, because it's no longer incentive-based, the compensation will be more immediate and predictable," Amazon said, according to Bloomberg.
Over the past few years, workers have expressed anxiety over strict work conditions at the online retailer. "It is modern slavery," a worker told Business Insider. "Jeff Bezos has become the richest man in the world off the backs of people so desperate for work that we tolerate the abuse."
Amazon workers in the United Kingdom have been known to be constantly stressed, Fast Company reported. One employee revealed that some were resigned to urinating in bottles out of fear of missing strict goal targets.
With profits in the billions and history's richest man as CEO, Amazon could afford to change its mind about bonuses and stock pay.