Harvey Weinstein was reportedly spotted at Babbo, the restaurant partly owned by Mario Batali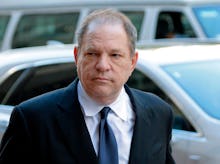 On Thursday, Eater reported that Harvey Weinstein made a reservation and was spotted at Babbo, the New York City restaurant still partly owned by disgraced chef Mario Batali. The spotting comes a year after allegations of sexual assault committed by Weinstein came to light, effectively giving rise to the #MeToo movement.
The restaurant confirmed to Eater that Weinstein, or someone representing him, made a 10:30 p.m. reservation for six guests on Wednesday night at Babbo. Weinstein reportedly exited the restaurant around 10:45 p.m., where a single photographer awaited him. The restaurant added that the reservation was later canceled, and when asked about Weinstein and Batali's relationship, a Weinstein spokesperson told Eater that "we do not know where he ate or who he knows." A spokesperson for B&B Hospitality Group, which Babbo is part of, refuted Eater's report and told Mic that Weinstein was not at the restaurant last night. The spokesperson added that Weinstein has no relationship with B&B.
In May, after being arrested on sexual assault charges, Weinstein posted $1 million bail, with contingencies that included restricting his travel to New York state and Connecticut and wearing a monitoring device. (He returned to court in July to face additional charges of predatory sexual assault of two women).
Weinstein has since begun a career as a paralegal, Vanity Fair reported. In January, Weinstein was slapped in the face at an an Arizona restaurant. "You're such a piece of shit for what you did to these women," the individual who slapped Weinstein said, according to a video obtained by TMZ.
In December, four women accused Batali of sexual misconduct, Eater reported. Batali's restaurant group has since been in the process of severing ties with the chef, though he remains a co-owner of Babbo.
The optics of Weinstein dining at a restaurant where the proprietors have been accused of sexual misconduct are incredibly tone deaf.
Oct. 4, 2018, 2:37 p.m.: This story has been updated with a response from B&B Hospitality Group.