Behold, a new museum exhibition: "Anna Wintour Double Crossing Her Legs"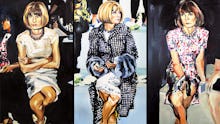 Anna Wintour is the head of the most influential fashion magazine in the world. She also double crosses her legs — a lot. And that is the focus of a new exhibit from the folks that brought you the "Olsen Twins Hiding From the Paparazzi" exhibit.
They are also the folks behind "Yama Kippi Yay Bo! A Celebration of Kim Cattrall," an entire exhibition dedicated to a 2005 clip of Kim Cattrall scatting.
And they're the folks behind the "Celebrities Smoking in the Bathroom at the Met Gala" exhibit.
The new Wintour-focused pop-up exhibition, courtesy of artist Laura Collins (the same artist behind the Olsens exhibition as well as as the "Real Housewives Pointing Fingers" show), is the latest offering from the THNK1994 Museum.
So why Ms. Wintour? "Anna continues to inspire artists in all mediums," THNK1994's founders Viviana Olen and Matt Harkins said in an interview over email. "Just by existing she inspires people to make art that literally changes lives. In [the 2009 documentary] The September Issue, she was described as not making herself 'available to anyone she doesn't need to be made available to,' and that kind of time management is necessary when your mere presence is going to cause someone to create a masterpiece."
Opening to the public on Nov. 9, it will feature a series of 12 life-size oil-on-linen paintings, 24 inches by 48 inches. (And yes, the paintings are available for purchase.)
According to Olen and Harkins, the paintings will be hung low on either side of the narrow gallery "to give you the experience of being surrounded by Anna."
"When you arrive we will ask you if you are here to see Anna," a press release reads. "You will reply, yes, but you don't have an appointment. We'll tell you Anna is very busy. You'll explain to us you are a model. We'll call upstairs and after being scolded for holding up such an important model we'll embarrassingly say, 'Anna will see you now.' We will then look down, ashamed. You will walk down the runway, cameras flashing, the most important walk of your life."
Asked why Collins chose the double-cross of all focal points, the duo had this to say: "The depiction of her sitting front row at fashion shows highlights the dichotomy between her self-imposed constraint and personal inhibitions while overseeing displays of physical liberation through fashion on the runway."
"It's also really hard to do," they added.
For more info on dates and times, visit the THNK1994's website.