A year after the first Harvey Weinstein exposé, what's the status of the criminal cases against him?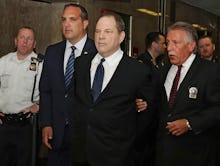 Friday marks a year since the New York Times published Jodi Kantor and Megan Twohey's bombshell report alleging that Hollywood producer Harvey Weinstein had a decades-long pattern of leveraging his position in the industry to systemically harass and intimidate female employees and actresses.
That report was quickly followed by another in the New Yorker, which detailed additional allegations of sexual harassment and assault against Weinstein. The response was powerful: Weinstein was fired from his role at the company he co-founded, and the back-to-back exposés about Weinstein seemed to open the floodgates for countless survivors of sexual assault and harassment — both within Hollywood and outside the entertainment industry — to come forward and share their stories.
What originally seemed like a Weinstein ripple effect transformed into the #MeToo movement, galvanizing people across the country. And now, a year after the initial story broke, the conversation remains all-too-relevant as the nation debates the sexual assault allegations against Supreme Court nominee Brett Kavanaugh.
But what's going on with Weinstein himself, the man whose pattern of abusive behavior was somewhat of an open secret for years? Aside from dining out at chic New York restaurants that happen to also be owned by alleged harassers (Weinstein was spotted Wednesday at Babbo, of which Mario Batali is a co-owner), Weinstein is still facing multiple charges.
In late May, Weinstein surrendered to New York City police and was charged with first- and third-degree rape in one case and first-degree criminal sex act in another case — the first criminal charges he faced despite investigations in multiple cities. One of the charges stemmed from Weinstein's alleged assault of Lucia Evans, who told the New Yorker that Weinstein forced her to perform oral sex on him at what she thought would be a casting meeting.
Weinstein was released on $1 million bail and agreed to surrender his passport and wear a GPS tracker, the BBC reported at the time. Actor Rose McGowan, who had accused Weinstein of rape, called the charges against him "a very significant moment, it's a concrete slap in the face of abusive power."
"It's just the beginning of that process and if we can see this through to the end, I hope we emerge victorious," she added.
Weinstein pleaded not guilty to the sexual assault charges in June. His lawyer, Benjamin Brafman, implied his client had been falsely accused and claimed the two sexual encounters in question were consensual.
"However reprehensible the crime of rape is, it is equally reprehensive to falsely accuse someone of rape," Brafman said in court, according to the New York Times. "Mr. Weinstein has denied these allegations. He enjoys the presumption of innocence and vigorously denies these charges. He intends to fight them."
Less than a month later, Weinstein was indicted on more charges related to his alleged sexual assault of a third woman, also in New York City, the Times reported. The indictment reportedly said Weinstein had "engaged in oral sexual conduct by forcible compulsion" on July 10, 2006.
As with the first slate of charges, Weinstein pleaded not guilty, with Brafman once again insisting on his innocence.
"Mr. Weinstein is not a predator; he is not a rapist and I believe that when this case is over we will ultimately see him be exonerated," Brafman said outside the courthouse in July, according to the BBC.
Weinstein's lawyers were on the offense in August. On Aug. 3, his attorneys filed a motion to dismiss the criminal charges against him in New York, citing emails sent from one of his alleged victims that, according to Brafman, showed that she and Weinstein had a "consensual intimate friendship, which never at any time included a forcible rape," CNN reported.
Later that month, a German actor identified by the pseudonym "Emma Loman" filed a lawsuit against Weinstein, alleging he raped her at the 2006 Cannes Film Festival, the Guardian reported. The complaint, filed in Los Angeles, alleged Weinstein had invited Loman, whom he had met in 2004, to attend the 2006 Cannes Film Festival as his guest. Loman claimed Weinstein's assistant called her "up to 30 times a day" to get her to accept the invitation, which she eventually did.
The suit also stated that, while at Cannes, Loman went to Weinstein's hotel room, where "Weinstein quickly dropped his professional demeanor. He instead overpowered Loman and raped her."
As Variety reported, Phyllis Kupferstein, a civil attorney for Weinstein, said the former producer's legal team would attempt to dismiss the lawsuit.
"This lawsuit is an attempt to continue the legal barrage and public attention on Mr. Weinstein," Kupferstein said in a statement. "The allegations are untrue and the claims are barred by the statute of limitations. We intend to immediately move to dismiss the complaint."
The latest Weinstein news came out of London, where police announced in February they were investigating 10 allegations against Weinstein. Scotland Yard said in September it was investigating an 11th allegation, the Telegraph reported. No charges against Weinstein have been filed in the U.K.
The allegations against Weinstein may have launched the current #MeToo movement, but it's still unclear what will come of the charges against him. The recent sentencing of Bill Cosby — who was convicted of aggravated indecent assault — may signal that powerful, famous men who for years escaped consequences are no longer immune. The ground is still shifting underneath us. After all, it's only been a year.