Republicans take preemptive victory lap on Brett Kavanaugh as they schedule first vote for Friday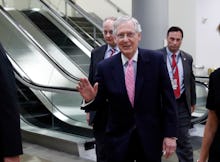 Senate Republicans took a preemptive victory lap on Supreme Court nominee Brett Kavanaugh's confirmation Thursday, chastising Senate Democrats for delaying the confirmation process and setting up the first vote on his nomination for 10:30 a.m. Friday morning.
"This is the 87th day. That's three weeks longer than the average of the last three or four nominees to the Supreme Court," Senate Judiciary Chairman Chuck Grassley said Thursday at a news conference on Capitol Hill. "So don't tell me we haven't spent enough time." Grassley helped delay Merrick Garland's Supreme Court nomination in 2016 for a year, to keep former President Barack Obama from appointing another nominee to the court.
Grassley was one of a number of Senate Republicans who spoke at the news conference, saying the FBI's probe of the sexual assault allegations against Kavanaugh was satisfactory and did not find corroborating evidence to back up the sexual assault claims he faced.
"After investigations from both the committee and the FBI, we have found nothing, absolutely nothing to corroborate the accusations against [Kavanaugh]," Sen. Orrin Hatch (R-Utah) said. "And we need to confirm him right away."
Democrats, as well as lawyers for Palo Alto University professor Christine Blasey Ford, said Republicans stymied a real FBI investigation, putting limits on who could be interviewed as part of the probe. Neither Kavanaugh nor Ford were on the list of people the FBI spoke to.
It's still unclear where a handful of key votes on Kavanaugh's nomination officially stand. But GOP Sens. Jeff Flake of Arizona and Susan Collins of Maine said they feel the FBI probe was "thorough" — a sign that Republicans have the votes to confirm Kavanaugh.
One Democrat whose vote was in question, Sen. Heidi Heitkamp (D-N.D.) announced that she is not voting for Kavanaugh, leaving just one Democratic vote up in the air: that of Sen. Joe Manchin of West Virginia.
If the Friday morning cloture vote, which will end debate on Kavanaugh's nomination, is successful, a final vote on his confirmation could take place early Saturday afternoon.