'Mic Dispatch': Meeting Atlanta's "billion-dollar lawyer"; band Zeal & Ardor redefine black metal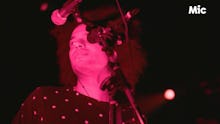 In this edition of Mic Dispatch, we explore the musical genre of black metal, a style of music that has been tied to ideas of white supremacy and neo-Nazism. But there's a band that's changing that narrative: Zeal & Ardor.
Lead singer Manuel Gagneux was inspired to create the project after receiving a derogatory post on an internet forum. Since then, the project has wowed metal critics and fans. The band's new album, Stranger Fruit, cemented Gagneux as one of metal's most unique voices.
Next up, we profile Drew Findling, the so-called billion-dollar lawyer who shares with us why rappers tend to get targeted by police and why he's on a mission to help them out. Having represented acts like Waka Flocka Flame and Gucci Mane, Findling has found himself an unlikely ally to many in hip-hop.
Check out episode 24 of Mic Dispatch — only on Facebook Watch.
To catch future episodes of Mic Dispatch, follow Mic Dispatch on Facebook Watch. For more stories about the show, visit the Mic Dispatch collections page.