Food and Politics: Trump's trade war could actually benefit US food banks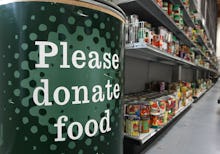 As the trade war between the U.S. and China continues and the Trump administration imposes additional tariffs of at least $20 billion on thousands of products, American consumers may soon feel the direct effects. In September, Gap's CEO told Bloomberg they would have no choice but to pass on tariffs to consumers, with 22% of their manufacturing operations based out of China. In August, Kimberly Clark, makers of Kleenex, Huggies and Kotex products, announced they would raise prices. Business Insider speculated this was due to taxes on pulp, which is used to make tissues and other specialty paper products. Walmart, the world's largest retailer, even sent a letter addressed to the Trump Administration, asking for reconsidering of taxes that would affect their business, customers and the entire U.S. economy.
But in an unexpected turn of events, U.S. food banks are in fact benefitting from the increased taxes. As part of an aid package for farmers hit by tariffs, the Department of Agriculture recently agreed to pay farmers nearly $12 billion — and purchase $1.2 billion in fruits, beef and other commodities from these farmers. This product would then be donated to social services groups like food banks and pantries. For the 46 million Americans who rely on these services, this means a greater selection and quantity of products to choose from.
And according to the Financial Times, Trump's trade war may even cause charities and food banks to struggle to keep up with the surplus in food. Feeding America, a network of over 200 food banks and 60,000 food pantries, has requested funding from Congress and the Department of Agriculture to compensate for at least $300 million in distribution costs. "A certain amount of the cost our food banks are willing and able to absorb," Carrie Calvert, a managing director of government relations at Feeding America told KJZZ, a public radio station in Arizona. "But with this amount of food that's coming, it's far more than they had anticipated. And they're going to need help."
In other food and politics news this week
For once, our sober president could be on the right side of history.
Trump reportedly drinks a dozen Diet Cokes a day. Here's a timeline of the President's love of the soda.