Today in Trump's America: Kavanaugh sort of apologizes for partisan tone in his confirmation hearing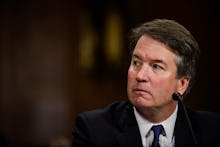 Welcome to Mic's daily read on Donald Trump's America. Want to receive this as a daily email in your inbox? Subscribe here.
Good morning from Emily Singer at Mic.
Here's what's happening in Trump's America:
• President Trump has a light schedule on Friday after a week of traveling for campaign rallies. His day begins at 11:30 a.m. with his daily intelligence briefing.
About last night: Kavanaugh semi-apologizes for partisan comments in op-ed ahead of confirmation vote
Supreme Court nominee Brett Kavanaugh wrote an op-ed in the Wall Street Journal published Thursday evening in which he seeks to assure the public he will be a fair judge, despite the overt partisan rage he exhibited in his Sept. 27 hearing before the Senate Judiciary Committee.
"I was very emotional last Thursday, more so than I have ever been," Kavanaugh wrote in the op-ed, titled "I Am an Independent, Impartial Judge." "I might have been too emotional at times. I know that my tone was sharp, and I said a few things I should not have said. I hope everyone can understand that I was there as a son, husband and dad. I testified with five people foremost in my mind: my mom, my dad, my wife, and most of all my daughters."
Kavanaugh's partisan tone — in which he threatened Democratic senators and bizarrely suggested with zero evidence Bill and Hillary Clinton were behind the sexual assault allegations he faced — has been a cause for concern not only among Democrats, but also among many in the legal community, including former Supreme Court Justice John Paul Stevens.
"I agree with Justice Stevens. Judge Kavanaugh's partisanship and temperament would do lasting damage to the credibility of the Court — an often overlooked consequence should he be confirmed," Sen. Pat Leahy (D-Vt.) tweeted.
Similarly, more than 2,400 law professors across the country wrote an op-ed in the New York Times saying Kavanaugh's temperament disqualifies him for the Supreme Court.
"We regret that we feel compelled to write to you, our senators, to provide our views that at the Senate hearings on Sept. 27, Judge Brett Kavanaugh displayed a lack of judicial temperament that would be disqualifying for any court, and certainly for elevation to the highest court of this land," the op-ed reads.
On Thursday, for the first time since 1987, the Washington Post Editorial Board opposed a Supreme Court nomination, citing Kavanaugh's tone.
"He gratuitously indulged in hyperpartisan rhetoric against 'the left,' describing his stormy confirmation as 'a calculated and orchestrated political hit, fueled with apparent pent-up anger about President Trump and the 2016 election' and 'revenge on behalf of the Clintons,'" the Board wrote. "He provided neither evidence nor even a plausible explanation for this red-meat partisanship, but he poisoned any sense that he could serve as an impartial judge."
It's unlikely, however, that Republicans will be swayed by an editorial in the mainstream media — which the party's base mostly distrusts and even hates, thanks to the past few years of priming from Fox News and politicians, particularly Trump.
Today in Trump's America: Senate set for first vote on Kavanaugh's nomination
The full Senate is set to cast its first procedural vote on Kavanaugh's nomination Friday morning.
Three key Republican senators — Jeff Flake of Arizona, Susan Collins of Maine and Lisa Murkowski of Alaska — have yet to announce their position on Kavanaugh's nomination ahead of the vote.
Flake and Collins hinted they could vote yes, both saying the FBI's probe into the allegations against Kavanaugh were thorough and found no corroborating evidence. If they both vote yes, Kavanaugh will be confirmed, with Vice President Mike Pence serving as the tie-breaking vote.
If Friday's procedural vote succeeds, Republicans could vote on Kavanaugh's nomination as early as Saturday afternoon.
However, a wedding could get in the way of the GOP's plan. Sen. Steve Daines (R-Mont.) is set to walk his daughter down the aisle in his home state Saturday, and he said he will not miss that milestone in her life for the Kavanaugh vote.
If Republicans need Daines' support, they could delay the vote until he can return to Washington, D.C.
Capitol Hill happenings: Massive protests against Kavanaugh take over Capitol Hill
More than 300 protesters demonstrating against Kavanaugh's nomination were arrested Thursday on Capitol Hill for "unlawfully demonstrating" in a Senate office building and were charged with "crowding, obstructing or incommoding," according to a statement from the Capitol Police.
Included in that group of arrested demonstrators was actress and comedian Amy Schumer, who was caught on video being rounded up by Capitol Police officers who were trying to clear the protests.
More protests are expected as the Senate gears up to vote on Kavanaugh's nomination.
And the rest...
More charges against Russian hackers: The Department of Justice charged seven Russian intelligence officials for "malicious cyber activity against the United States and its allies." The charges stem from the Russians' alleged hacking of multiple sports organizations in both the U.S. and abroad, reportedly obtaining nonpublic health information of athletes as well as others.