The James Beard Foundation is giving its awards a major makeover, which prioritizes inclusivity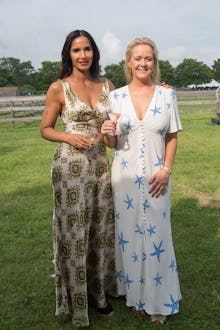 On Tuesday, the James Beard Foundation announced a series of major changes to its prestigious annual awards program. The move is part of a broader effort to increase gender, race and ethnic representation in the awards and boost transparency about how those decisions are made. The so-called "Oscars of Food" remain among the highest honors for chefs, restaurateurs, beverage directors, food writers and others in the food community, and the shift could have far-ranging effects. Recognition by JBF can make a career, after all. Next year's awards are slated to take place on May 6 in Chicago.
The organization pledged to increase the diversity of gender, ethnicity and race of its judges and committees. The organization is also ditching its Who's Who of Food and Beverage in America category, which has been around since 1984; only past honorees were able to nominate new members, which JBF deemed too inclusionary.
While last year's awards were statistically the most diverse in its nearly 30 years of existence, a Mic report found representation of women and people of color among honorees has yet to reach parity with numbers in the larger food community. Women made up 39.3% of last year's best chef and outstanding chef nominees; in comparison, in the fall of 2016, women constituted 51.6% of the student body at the Culinary Institute of America in Hyde Park, New York. Of last year's recognized chefs in the same categories, 26.1% were people color; Bureau of Labor Statistics figures from 2014 suggest 51.3% of restaurant chefs and head cooks are African-American, Asian or Hispanic.
Better representation and increased parity are issues JBF has already been trying to tackle mindfully, Mitchell Davis, chief strategy officer of the foundation, said, pointing to the Women's Entrepreneurial Leadership Program, which was started last year to provide training for female food business owners. "We give them a week of training on entrepreneurship, on creating a good business models, communicating, negotiating and finding capital," Davis said in a phone interview, adding programs for people of color were "next in line."
Last year, he added, JBF moved its Leadership Awards to be during the same weekend and in the same city as the main awards. The move is meant to give the achievements of the Leadership honorees — for example, strides in fair wage activism, farmer equity, preventing food insecurity and more — the same spotlight afforded top chefs.
Changes to the nomination and selection process could buoy women, people of color, LGBTQ people and other marginalized groups, which has the potential to change the culinary landscape fundamentally. It's arguably reflective of a community shifting around uncomfortably in the wake of its own #MeToo reckoning, which saw bold-faced names accused of sexual harassment and misconduct, including past JBF Award honorees Mario Batali, John Besh, Johnny Iuzzini and others.
"We've known for a long time that our voice matters, but it's taken us a little bit of time to know how we can be most effective," Davis said. "Things really did come to a head when the spotlight was shone on chefs behaving badly. … We need to change the culture of kitchens [and] we need to find other ways to lift people up."
There will also be changes to JBF's Book, Broadcast Media and Design Awards. Although there remains no entry fee for the chef and restaurant categories, historically a fee of $150 per entry has applied to media categories. While those fees will largely remain in place, JBF will waive fees for all submissions made during the first two weeks of entry as well as for first-time submissions overall in an effort to be more inclusive. The decision, Mitchell said, was made on the recommendation of a committee of volunteer editors and writers who recused themselves of the possibility of winning at this year's awards. In an op-ed, however, Eater writer Sarah Baird posited that the move doesn't go far enough, and that fees for writers should be waived altogether.
Davis said he doesn't know where he stands philosophically on the subject, but noted fees help fund the immense administrative effort of sifting through the awards' many submissions. At any rate, the current changes reflect only the first step, he said. "It's possible that next year, they'll say, 'This didn't give us the desired effect.' What happens when a writer [whose fees were waived] this year still doesn't have the money to enter next year? That could happen."
Figuring out how to be as inclusive as possible is an "evolving process," Davis added. "Success for us means that everyone feels like they had a fair shot," he said. "That they enter and are considered, and when the results come out, the people sitting in the audience are proud. They see what they aspire to be amongst the winners."
Correction: Oct. 10, 2018