Hype Daily: Amy Schumer arrested at Brett Kavanaugh protests and more entertainment news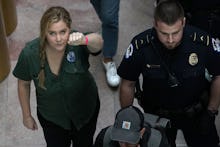 Welcome to Hype Daily, Mic's morning entertainment roundup. Here's everything you need to catch up on in the entertainment world and what to look forward to today. Want to receive this as a daily email in your inbox? Subscribe here.
Happy Friday, everyone! We made it. Let's get right into the news, shall we?
Amy Schumer and Emily Ratajkowski were arrested for taking part in the Brett Kavanaugh protests
Comedian Amy Schumer and model and actor Emily Ratajkowski were arrested on Thursday, along with hundreds of others, while protesting Brett Kavanaugh's potential Supreme Court appointment, according to CNN.
Hundreds of people descended upon the Senate building in Washington, D.C. to decry Kavanaugh's ongoing nomination, despite his being accused of sexual misconduct by several women, and Schumer and Ratajkowski, who appeared together onscreen in this year's I Feel Pretty, were among the protesters. CNN reported Capitol Police arrested a total of 302 people involved with the demonstrations on Thursday, including the two celebrities.
Schumer reportedly told a CNN producer she was arrested, and Ratajkowski said she was arrested in a tweet. In that same message, Ratajkowski wrote, "Men who hurt women can no longer be placed in positions of power."
As the Hollywood Reporter pointed out, Schumer also made time to record a special video message for the child of a fellow protester; in the clip, Schumer said, "I'm here with your mom, she loves you very much, I think we're going to get arrested, and we're so proud of you." MSNBC also tweeted out an image of Schumer being detained with other protesters.
A preliminary Senate vote on Kavanaugh's nomination is set for Friday with a final vote planned for Saturday. For more on the Kavanaugh protests, check out Mic's political coverage.
Ariana Grande already seems to be working on her next album
Ariana Grande put out her fourth studio album — the critically acclaimed Sweetener — just this past August, but it appears the singer is already hard at work on the follow-up.
As Stereogum noted on Thursday, the 25-year-old pop star tweeted out a video from a recording studio that features a promising snippet of a new song. The clip came accompanied by a message quoting one of the song's lyrics, reading, "Tell me how good it feels to be needed."
And this is all just days after Grande tweeted on Monday that "music is the best medicine," which is likely a reference to the recent death of her ex-boyfriend, rapper Mac Miller. Stereogum also pointed out, in a since-deleted tweet, Grande addressed her fans, writing, "can't wait for you guys to start being weird little ag5 detectives." That abbreviation is almost certainly a nod to what'll be her fifth album — Grande's fans referred to her third album as "AG3" and her fourth, Sweetener, as "AG4."
For the past few years, Grande has released albums on a two-year schedule, but maybe we'll get a Sweetener sequel by next summer?
The trailer for the new She-Ra cartoon has arrived
Back in July, we gave a shoutout to She-Ra and the Princesses of Power, a new reboot of the '80s cartoon She-Ra that's coming via DreamWorks Animation and Netflix. Now we can happily share a more in-depth preview of the upcoming series: A trailer for She-Ra and the Princesses of Power debuted at New York Comic Con on Thursday.
The new preview, which follows a teaser that was shared in September, is nearly three minutes and gives viewers a lengthy glimpse of the show's plot and mix of humor with action. It all looks to be very well done — funny, smart and self-aware. Watch the trailer here, and look out for She-Ra when it debuts on Netflix Nov. 16.
Put this on your radar: Venom
Consider this less of an endorsement and more of a warning: Venom hits theaters today. The new Sony film — which stars Tom Hardy as the iconic (but kind of empty?) Spider-Man anti-hero — is the studio's latest misguided attempt to get a Spidey-adjacent cinematic universe off the ground. If you couldn't tell from my use of the word "misguided" there, I'll just outright say it: Venom is supposed to be bad. Like, irredeemably bad, at least to according to several reviews we recently rounded up, one of which described the movie as a "puddle of simplistic, sanitized PG-13 drivel."
Now, if only there was another film opening in theaters today, one that was highly anticipated and sure to be an Oscar contender and way more worth your time than Venom. Hmm...