Trump Foundation engaged in "persistent illegality," New York attorney general alleges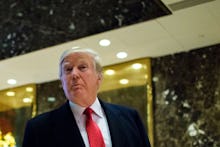 President Donald Trump's charitable foundation behaved in a "persistently" illegal manner, the New York attorney general's office alleged in a court filing Thursday defending its lawsuit against the Trump Foundation.
"For more than a decade, the Trump Foundation operated in persistent violation of state and federal law governing charities," New York Attorney General Barbara Underwood said in a statement Thursday.
According to the court filing, Trump used his charity to "advance his personal, business and political interests."
The filing came in response to a motion by the Trump Foundation in August to dismiss the lawsuit, which the charity claimed was politically motivated.
But in the court filing Thursday, Underwood argued politics had nothing to do with the suit and urged the court to allow it to proceed.
"Respondents' arguments for dismissal must be rejected," the filing read.
Underwood brought the suit against the Trump Foundation in June, seeking $2.8 million in damages.
The suit would also prohibit Trump from operating a nonprofit in New York for 10 years and would ban his children — Donald Trump Jr., Eric Trump and Ivanka Trump — from serving as director of a nonprofit for one year.
Trump's adult children serve on the board of the foundation, which "abdicated its fiduciary duties entirely, leaving the foundation to operate without any oversight," according to Underwood.
Trump has not appeared to comment on the latest filing, but said in a tweet when the suit was first filed the case was "ridiculous," and "sleazy New York Democrats" were unfairly targeting him. He also referenced former New York attorney general Eric Schneiderman, who resigned in disgrace in May after being accused of sexual misconduct.
"I won't settle this case!" Trump tweeted in June.