Beto O'Rourke on not receiving Obama endorsement: "I don't think we're interested."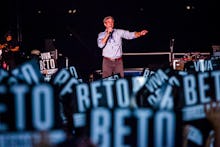 Despite handing out endorsements to a cherry-picked group of nearly a dozen Texas Democrats in recent weeks, former U.S. President Barack Obama will reportedly not add Beto O'Rourke's name to his roster of recommended candidates ahead of the 2018 midterm elections.
And according to O'Rourke, that's just fine.
"I don't think we're interested [in an endorsement]," the progressive congressman, who is currently locked in a tense contest to unseat incumbent Republican Sen. Ted Cruz in Texas, admitted Thursday during a town hall at a local high school.
"I am so grateful to him for his service, he's going to go down as one of the greatest presidents," O'Rourke told the assembled crowd, according to the Texas Tribune. "And yet, this is on Texas."
Despite his collegial response to the non-endorsement, the past might be prologue when it comes to figuring out why O'Rourke isn't too keen on receiving Obama's endorsement.
During the rally on Thursday, the congressman noted that during his successful 2012 campaign for Texas's 16th congressional district, it had been his opponent — incumbent U.S. Rep. Silvestre Reyes — who had received coveted endorsements from key Democratic heavyweights, including Obama and former president Bill Clinton. But the nods weren't enough for Reyes, and O'Rourke emerged victorious anyway.
"Bill Clinton fills up the county coliseum and a screaming El Paso Times front page headline [said] "President urges El Paso to stick with Reyes," O'Rourke said. "And we won. And what that drove home for me is that someone else's popularity is not transferrable to a given candidate."
Cruz, meanwhile, has had no qualms with accepting help from President Donald Trump and his family. According to the Tribune, he has a rally planned with the president himself sometime in October, and has stumped with the president's son, Donald Trump Jr., as recently as last week.