Bette Midler apologizes for tweeting "women are the N-word of the world"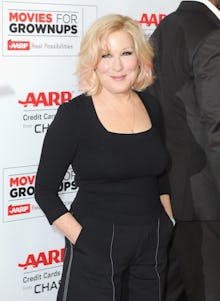 Actress Bette Midler has apologized for posting a now-deleted tweet Thursday night, that compared women to the "N-word." Critics say the tweet was not only racially insensitive but also ignored the experiences black women have with both racism and sexism.
"'Women are the n-word of the world,'" Midler wrote in the original post, which likely references a 1972 song with a similar title by John Lennon and Yoko Ono. "Raped, beaten, enslaved, married off, worked like dumb animals; denied education and inheritance; enduring the pain and danger of childbirth and life IN SILENCE for THOUSANDS of years. They are the most disrespected creatures on earth."
Immediately after, Midler was called out for her tone-deaf tweet. One of those critics was political strategist Donna Brazile, who asked Midler to delete her tweet.
"No, No @BetteMidler," Brazile wrote. "Women are the salt of the universe. We are strong, resilient & courageous. We deserve better than this. We respectfully ask that you delete the tweet using the 'N' word. Black women have stood in the shadows or on the sidelines. We are #PowerRising!"
Midler then posted an apology Thursday night after receiving backlash.
"The too brief investigation of allegations against Kavanaugh infuriated me," she wrote. Angrily I tweeted w/o thinking my choice of words would be enraging to black women who doubly suffer, both by being women and by being black. I am an ally and stand with you; always have. And I apologize."
Midler is one of many celebrities who have been vocal about their opposition to the Supreme Court nomination of Brett Kavanaugh, amid the investigation into sexual assault allegations brought by Palo Alto University professor Christine Blasey Ford.