Federal judge partially blocks St. Louis abortion discrimination ordinance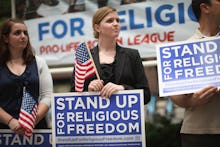 A federal judge in Missouri partially struck down a St. Louis ordinance Sunday that barred employers and landlords from discriminating against an employee or tenant based on their reproductive choices, including whether they've received an abortion or use contraception.
The St. Louis ordinance, which opponents decried as making the city a "sanctuary city for abortion," specifically prohibited discrimination based on an individual's "reproductive health decisions or pregnancy status." The ordinance still allowed religious institutions and companies to deny health coverage for reproductive health services.
Plaintiffs the Archdiocesan Elementary Schools of St. Louis, O'Brien Industrial Holdings Inc. and Our Lady's Inn, which provides housing to pregnant, low-income women who have elected not to obtain an abortion, challenged the ordinance. The plaintiffs claimed that the regulations violated their First Amendment rights and Missouri law.
While the court did not strike down the ordinance entirely, as the plaintiffs had requested, it did rule that the Archdiocesan Elementary Schools and Our Lady's Inn were not required to comply with the ordinance's employment and housing protections. According to the court's ruling, the ordinance violated the religious organizations' First Amendment right to freedom of "expressive association" and did not serve a "compelling state interest" to warrant the First Amendment restriction.
"The forced inclusion of individuals who do not share Our Lady's Inn's commitment against abortion would significantly affect the ability of Our Lady's Inn to advocate for its services and encourage women to forgo abortion," U.S. District Court Judge Audrey G. Fleissig wrote in the court's ruling, adding that the ordinance would also "significantly affect the Archdiocesan Elementary Schools' ability to advocate their viewpoints, through its teachers and staff, to their students."
"Although the City certainly has a compelling interest to protect its citizens against discrimination – clearly a laudable goal – it has failed to present sufficient evidence that those making reproductive health decisions are 'historically disadvantaged' or that the provisions of the Ordinance limiting speech were narrowly tailored to further that compelling interest," Fleissig continued.
The ruling also held that O'Brien Industrial Holdings Inc., which the court found was not a religious company as specified in the ordinance, was not required to provide health care coverage for reproductive services to its employees under the ordinance.
The Thomas More Society, a Chicago-based religious liberty law firm that represented the plaintiffs, said in a statement that it was "satisfied" with their partial victory in the case.
"This law that claims to protect abortion supporters from discrimination is actually an attempt to suppress the viewpoint of those who believe that abortion is harmful or wrong by making it impossible for them to operate in accordance with their beliefs within the City of St. Louis," Thomas More Society Special Counsel Sarah Pitlyk said in a statement. "We are especially pleased with the Court's acknowledgement that there is no evidence whatsoever of the kind of discrimination that this ordinance purports to address, because it exposes the law for the sham that it is."
St. Louis City Counselor Julian Bush told the St. Louis Post-Dispatch that the decision "has to be studied and absorbed and decisions have to be made about an appeal." Bush noted that the city would not enforce the ordinance against "similarly situated organizations" to the three plaintiffs, but the ordinance would still apply to companies and organizations that don't have a religious mission.
The St. Louis ruling is the latest setback for reproductive rights advocates in Missouri, after a federal appeals court recently upheld the state's restrictive "TRAP law" that put restrictions on abortion providers. In a subsequent ruling Wednesday, a federal court denied Planned Parenthood's request to temporarily exempt a Columbia-based clinic from the restrictions, which now leaves the state with only one abortion clinic.
"From the confirmation hearings of Brett Kavanaugh to restrictive laws passed at the state level, to this ruling, it is clear that reproductive health rights are under attack at every level of our government and every branch of our government," Alderwoman Megan Green, who sponsored the St. Louis ordinance, told the Post-Dispatch.
The court's decision to partially strike down the St. Louis ordinance also comes amid a nationwide push for "religious liberty," which the Trump administration has championed in recent months through such actions as forming a "religious liberty task force" at the U.S. Department of Justice and issuing new religious liberty guidance through the Department of Labor. Christian adoption and child welfare agencies have also benefitted from recent state laws that allow discrimination against LGBTQ couples and other potential adoptive and foster care parents, though a proposed federal measure sanctioning the discrimination failed in the U.S. House of Representatives in September.