Alyssa Edwards had her close-up. Now, with Netflix's 'Dancing Queen,' it's Justin Johnson's turn.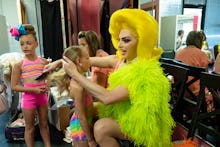 Alyssa Edwards first proved her breakout stardom in 2013 on the fifth season of RuPaul's Drag Race. Three years later, she proved her staying power as a finalist on RuPaul's Drag Race All Stars 2. But now, in perhaps her biggest gig to date, Edwards, whose real name Justin Johnson, is proving they are ready to occupy a stage all their own. Not only that, he's willing to show the world a more holistic representation of himself.
Sure, there are the tongue pops and plenty of new catchphrases on his new Netflix series, Dancing Queen, but there are also moments of raw emotion. How could there not be in a series that looks at the ups and downs of being a 30-something single gay man in small-town Texas? Or that it discusses the impact that losing his mother a few years back had on Edwards, as he visits his childhood home?
Mic chatted with Edwards about the series, learning to be unapologetically themselves while teaching others how to dance and being the queer role model that they didn't have growing up. This interview has been edited and condensed for clarity.
Mic: I want to start by taking you back to the day your Netflix series was announced and the explosion of support that burst online. What was that like?
Alyssa Edwards: It's kind of like what I said in the show's trailer: "Talk about a dream come true." All I did was really allow these cameras in my daily life, in my car, in my home life, family, my awkward, interesting dating life. You don't really know if people are going to like this. Is it going to be interesting? Is it going to be cool? Is it going to be inspiring? I thought, "Just be yourself, genuinely, sincerely, unapologetically and be proud of who and what you are and what you stand for. And everything will work out."
And when everything started coming in, it was like, "Oh my gosh. OK! All these people are really going to be embrace the series." It's a feeling that I've probably never felt because I'm watching myself be vulnerable for the very first time. I mean, I had a moment on Drag Race, but I'm very proud that I opened up and allowed myself to be seen as a human being on this series.
On Drag Race, you shared the spotlight, but this is 100% Alyssa. How has this experience been different, since it's your project versus a project you're a part of?
AE: Well, I'm definitely not getting judged this go-around. It's so hard to compare the two because that's a competition reality series and that's a produced reality, and there is a format, there is a mini-challenge, a main challenge, a runway and a lip sync — you know those things are going to happen and everything else in between is what makes it a reality. And this go-around it's a docu-style, it's a day to day, what goes on in my life. It's really remarkable to watch actually, and I lived it, but this is a triumphant story.
The scene where you point out the front porch where your mother first told you she knew you were gay is perhaps the most affecting moment in the episodes I've watched thus far. What was it like reliving that moment, especially in the wake of your mom's passing?
AE: You know, I have dealt differently with my mother's passing than I have with my sister's. It was very, very hard in the beginning, but also I believe in heaven, so I know my mom is up there giggling and twirling, sitting at a table with Elvis Presley and it's a shindig, I just know it. But I remember that day. I remember it being a little windy, and I remember going back there and it was... [long pause] you know, it's like what I say in the beginning, "A journey of a thousand miles begins with a first step."
It took me back to that single step because leaving that place... I told myself I would be something. I would be something. And I remember my mom saying that to me. It still brings back all those emotions and that's why I said, "I'm going to remember the good times. I'm going to remember the times that I walked away from it a better man."
One thing this show makes clear is not just your love for dance but how seriously you take it. When did you first fall in love with dancing? And when did you know this was a skill you wanted to pass on?
AE: I fell in love with dance my very first dance class because I was so socially awkward. I didn't really know how to walk up to someone and go, "Hi, my name is Justin and I like to swim in the summer and my favorite color is blue." I didn't really know what to say to make friends. I definitely didn't fit in with the other little boys. So when I went to dance, it was like, "Wait a minute, I don't have to say anything? I can act it out. This is it. This is my calling."
I don't want to say it's necessarily a passion because it's so much more — it's my purpose. I was blessed with this gift. It would be an injustice if I didn't share that. The greatest gift I've ever been given is the ability to be a teacher. And I know it may sound a little corny, but it's the truth. It takes a very certain someone that can create this powerful message through the art of movement, translate that from your heart to a child's and then a child's to an audience. Wow.
What I loved most about this show was, like Queer Eye, how genuinely uplifting it is without being preachy or saccharine. What is it about you, Justin, you Alyssa, that you think elicits such fondness from those who encounter you?
AE: I think I'm relatable. I think I'm a normal guy. A normal human with a goal and a dream. Someone that's a hard worker. Diligent. Someone that has fell and laid there for a second and jumped right back up. And I think that I'm unapologetically me. I think I'm someone that comes from a background that's very humble and humbled by that experience I am truly living my life.
Growing up, I didn't have a lot of queer role models. I'm wondering what your experience was in terms of having figures like yourself to look to for representation?
AE: I had my gay uncle and he lived in New York City for quite a while, but I did have that role model. But I grew up in a time where search engines were not popular just yet, so I didn't really know what to say, what not to say, what to do, what not to do, who to turn to, who to ask. So I thought I would just suppress how I felt. And that suppression made me a better artist because I would go into the studio and let it out through movement.
You were at DragCon recently — I'm wondering if there's a specific fan encounter with any young people that sticks with you.
AE: There's one in particular from my panel. A dad stands up in the back and he says to me, "What advice would you give me as a dad that has a son like you?" It touched me so much. His son was there and he was 13 years old. And that was the highlight of my weekend, talking with him. It was like a therapy session. And then he came to my booth with his son. And the son was getting things and the dad just said to me, "Thank you, thank you very much." He only referred to me as Justin. He said, "You're a really wise man. And your role... you're really doing a great job at inspiring these kids." It a a reminder that what we do is so much bigger than just being a drag performer.
What do you want to do next with this platform, specifically with regard to the young fans you've cultivated who clearly look to you?
AE: I hope to share a message of hope and inspiration, and we need it. Especially at this time in our world. Even in your darkest hours, there's a light. And even if that light is within, let that light shine. And just know... I want to say this before I leave... The NeverEnding Story is one of my favorite movies. And when Atreyu is reading that book, it's kind of like how I view my [story].
My book of life is already written — it's just now being read out loud. There were a lot of dark moments, but I'm so glad that I held on and that I was steadfast because chapter 38 has been the biggest blessing and the most joyous, and I am here, driving downtown from Dallas, after watching a series built around my life. Talk about a dream come true. I love it.