Trump-backed Rep. Claudia Tenney says farmers who oppose her aren't "legitimate business owners"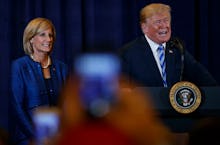 Vulnerable House Republican Rep. Claudia Tenney has come under fire from her constituents after saying that dairy farmers who support her opponent aren't "legitimate business owners."
The comments from Tenney came during a radio interview with WUTQ Wednesday, during which the New York representative claimed her opponent, Assemblyman Anthony Brindisi, was bad for the district's dairy farmers. Tenney pointed to Brindisi's support of such policies as raising the minimum wage, the state's high property taxes and an Oneida Indian Nation land deal – which she says drove up property taxes up and took farmer's lands from them.
"Any dairy farmer that supports my opponent is not a legitimate business owner," Tenney said in response to a call the radio station received from a farmer supporting Brindisi. "They really just don't know anything about his record, so I don't take these things personally. I've been fighting hard for dairy farmers.
"It's incredible that anyone would vote for someone who has a longstanding record in the state Assembly that is not good for dairy farmers," Tenney continued.
In response, Brindisi's campaign put out a statement condemning Tenney's remarks featuring comments by five local dairy farmers.
"I know many dairy farmers who are supporting Anthony and they are all legitimate business owners," Mike McMahon of EZ Acres Farms in Homer, New York, said in a statement. "To dismiss your constituents because they disagree with you on politics is offensive and wrong. We need a representative who will fight for all dairy farmers, not just the ones who will vote a certain way."
James Entwistle, Steven Entwistle, Joseph Entwistle and Robert Entwistle Jr. of Entwistle Farms in Litchfield, New York, called for Tenney to take back her statement, calling it "wrong and insulting."
"When times are tough, dairy farmers need someone in Washington fighting for them," the Entwistles said. "We are supporting Anthony Brindisi."
Brindisi also condemned the comments, saying that "by dismissing dairy farmers who disagree with her, Claudia Tenney is showing us that she won't fight for everyone in this district."
Wednesday's interview was not the first time Tenney has come under fire for her remarks on a radio show. The congresswoman was condemned in February for falsely claiming during a radio interview that "so many" mass murderers "end up being Democrats" after the mass shooting at Marjory Stoneman Douglas High School in Parkland, Florida.
Tenney's House seat in New York's 22nd District is considered to be vulnerable in the upcoming November midterm election; the Cook Political Report currently classifies the race as a "Republican Toss-Up."
While the New York district has a predominantly Republican constituency, Brindisi is a moderate Democrat with an "A" rating from the National Rifle Association who could win some Republican support. Tenney has instead leaned much further to the right; the congresswoman has aligned herself with President Donald Trump and has even echoed the president's divisive rhetoric, issuing a "Lock them up" petition in April calling for the arrests of former FBI Director James Comey, former Deputy Director of the FBI Andrew McCabe, Attorney General Loretta Lynch and Hillary Clinton.
"I'm here for Claudia. She has been incredible in Congress. She has helped us so much," Trump said at an August rally in Utica, New York, in support of Tenney. "Hopefully we put Claudia right over the top where she belongs. I don't think she's going to have any problem."