Mic Daily: Trump calls the media the "enemy" yet again — and other news of the day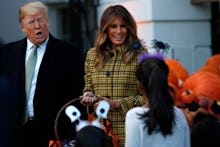 Good evening, folks, and happy Monday to you all. Today, Mic Daily kicks off with some inspiring conversations we had with first-time voters ahead of the midterm elections. Let's dive right in.
As the November midterms approach, a whole new crop of youthful Americans are preparing to cast their very first vote in an election. For some, like college freshman Taylor Mackenzie, the reaction to the shooting at Marjory Stoneman Douglas High School in Parkland, Florida, served as a sort of catalyst in motivating her to become more politically active.
For others, cynicism toward the voting process has already kicked in — an act in deciding "the lesser of two evils," as Derek VonDrehle, a high school senior in Denver, put it.
In the wake of Saturday's shooting at a Pittsburgh synagogue that left 11 people dead and six more injured, Gab — the social media site and safe haven for the far-right — was suspended. The reason? Shooting suspect Robert Bowers had a history of posting anti-Semitic messages there.
In response to Saturday's synagogue shooting and the earlier rash of mail bombs sent to those on the receiving end of President Donald Trump's toxic rhetoric, some have been calling for the far-right to be more mindful of riling up their base. Trump, however, decided to go a different route: blaming the media, of course.
It's time for our regular check-in on whatever shenanigans Kanye West is up to. Most recently, he helped design a clothing line called "Blexit," meant to encourage young black voters to leave the Democratic Party. OK, sure, why not.
As Facebook continues beefing up its various slate of emotional reaction options to comments and posts, Twitter is reportedly getting rid of its "like" button altogether. Inevitably, this reported change has surfaced the ever-present criticism that Twitter has failed to meaningfully curb its abuse problem, instead focusing on features and tweaks in irrelevant areas.
Mic Daily is Mic's newsletter that cuts through the noise and lands in your inbox every weekday. We carefully curate each edition to send you a cross section of our most vital stories of the day.