Actress Javicia Leslie says 'God Friended Me' isn't a religious show. It's about human connection.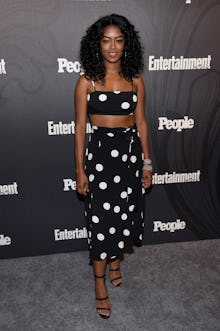 Actress Javicia Leslie is a newcomer to network television, and perhaps it's safe to say that it's her faith that led her to a role in the CBS network comedy-drama God Friended Me.
"My belief is — if you follow your passion, you'll find your purpose," Leslie said in an interview with Mic. "I feel like my steps are ordained and every place that I've gone, I was supposed to be there in that moment."
After she graduated from historically black college Hampton University in 2009, she worked for the government, helping soldiers receive pay for extended military contracts. She said the job was fulfilling, but knew that she wanted to be an actor, and "didn't want to live with the regret" of not trying. Once she committed to pursuing her dream full time, she kept landing opportunities.
In 2015, the actress, who is from Upper Marlboro, Maryland, co-starred in the popular Black and Sexy TV web series Chef Julian, where she gained a huge fan base — and later, several haters — for her role as Monisha, the titular character's ex-girlfriend. But then she got an even bigger break. The following year, she nabbed the lead role in the Lifetime movie Killer Coach, playing an Olympic hopeful who is ultimately tormented by her swim coach. In February, she was cast in her first TV show as a series regular in God Friended Me, as Ali Finer, a devout bartender who is seeking her doctorate in psychology — and who has a secret that could change her relationship with the church.
God Friended Me stars Brandon Micheal Hall as Miles Finer, an outspoken atheist with a podcast who accepts a friend request from "God" on Facebook — and is sent on a journey to help others around him. Miles' beliefs — or lack thereof — put him in a constant battle with his preacher father, Rev. Arthur Finer (Joe Morton). However, Miles' younger sister, Ali, is determined to be the bridge that keeps them connected.
The 31-year-old actress talked to Mic about her path to becoming an actress, why she doesn't see the series as a "religious show" and the message she hopes people learn from the show's characters.
Mic: Tell viewers what we can expect to see from your character, Ali, on God Friended Me.
Javicia Leslie: Ali is very much a bridge between her father and her brother. My brother and I grew up in a very religious household; our dad was a reverend. When Miles ends up taking the atheist route, she ends up being the communication between them — helping them to get past whatever obstacles and struggles that they're going through.
But then also, I'm getting my doctorate in psychology. So I'm kind of the voice of reason for everybody; when they come into my bar, they'll sit down and we'll talk and I'll kind of guide them through whatever they're going through. But also in my own life, I have things that I'm dealing with because I was raised as a preacher's kid. She has a reveal in the third episode that will shake things up a lot. Because Rev. Finer is already dealing with the fact that his son is an atheist and now you're going to find out that his daughter has a secret that's kind of against the church as well. So that's going to be a huge part of the character and my life. 
What attracted you to this role in particular?
JL: I like the dynamic that she has with her brother. In the show, Miles is older than Ali and in reality women mature faster than men. It's almost like she's older than him. My [real-life] brother is eight years older than me, but if you were around us, I act older than him. So I connected to their dynamic. I was also raised by a single parent, and the fact that their dad is doing this all on his own is, to me, so powerful, especially if you talk about the black community, where many people were raised by a single mom. So just to have the representation of a single dad, I think that's so dope.
There are a few other shows out there that touch on religion and spirituality. How do you think this show will stand out?
JL: You know, I feel like we aren't a religious show. It comes across like that because it's called God Friended Me, but we've really realized a lot of it is about human connectivity. Even when you watch the pilot, the idea of the account is the idea of God. So what really made things happen was Miles deciding to help these people, beyond what his beliefs were. Beyond the fact that he's an atheist and it was an account called God sending him these people, he as a human decided to help. And I think that that's what's going to set us apart.
Also, we're not going to just talk about one religion, a lot of religions are going to be brought up in this, a lot of things that humans deal with on a day-to-day basis in communicating with each other. The differences that we have shouldn't divide us; they should help us to communicate better, and I think that that's what this show brings to the table. It's an open dialogue. I love the fact that me, Brandon and Joe's characters are Christian. Violet's character is Jewish. All of our characters are a different religion, and it doesn't divide us at all. We see a show with a family who all may believe in something different, who all may be dealing with something different — and they can sit in a room and watch and find something to connect to.
What do you hope people who have been raised in the church think about it and learn from the series?
JL: It's funny, Brandon's mother is a pastor, so he grew up in the church. For him to have to take on this role of being atheist, but also being raised in the church, it made him ask a lot of questions about his own religion. I think that religion is taught, but faith is different. I believe faith is something that grows and that it's something that you find on your own. I pray that that's what everyone really gravitates to, because whether you call yourself religious or not it is a set of rules that are created by our society and unfortunately, those rules have divided us.
But I truly believe that faith is not of division but it's of inclusion. I pray that that's what this show gives. It allows us to see that we all can communicate and help each other and be there for each other. I wasn't technically raised in the church but when I was in high school I started going to church on my own, and I got baptized on my own. I followed my own path, and I think that that's why I feel as strong as I do in my faith. Because I made a decision and I chose to do it versus being raised religiously and not having asked those questions that are very valuable, those questions that are going to shake really what's true for you.
Are there moments on set where you've gotten good advice from veteran actor Joe Morton or other cast members?
JL: Man! You know, I'm lucky. It's my first television series, and I get to work with the Joe Morton. Honestly, even just being in a scene with him is like an acting class. He's so grounded and confident, and he's so of his character. I watched the work that he did to prepare for this character, the research that he did, and that's something that I've learned from.
[Morton] did Henry IV in LA right before he came out here. I had not seen ever in my life a "sides book" — it's like a wallet, but inside [are] your lines for the day. Brandon had pulled one out, and I said 'Aw man, I want one,' and [Morton] was like 'I have my Henry IV one in my trailer. You should have it for the season.' And I was like 'Oh my gosh, Tom Hanks gave you this. You're Joe Morton, now I'm using it.' He's just a great person to be around and as an artist he's so admirable, and he works so hard.
I also feel like that about all of the cast. When I'm in a scene with Violet, I'm mesmerized by her natural talent. With Brandon, me and Brandon are kind of like brother and sister.
How has it all felt to go from a web series to Killer Coach, a feature film on Lifetime, to your first television series? What have you learned along the process?
JL: I was thinking about that today actually. I flew in from Maryland to see my mom, I thought about the first time I set foot out in New York, once we had the show and my anxiety of living in New York. We had to move for the show. I was terrified, and now I call myself a New Yorker and I love it. My belief is if you follow your passion, you'll find your purpose.
I was so blessed to work with Black and Sexy. They're an awesome team. The show Chef Julian was so cool. I think that that character went through so much; the development of her from being Julian's ex-girlfriend from college to her being as messy as she got at times. I don't know if you ended up watching Hello Cupid, but she got messy.
Yes, girl, real messy.
JL: She started to become one of the most-liked characters [and then went] to being one of the most-disliked characters. It was powerful for me as an actor because I got in my feelings sometimes, and I'd read the comments. I realized I must be doing a good job if they're really that connected and were starting to dislike her. It's fun to play that.
And then Killer Coach was awesome; that was my first full feature. I got to work with Keesha Sharp, who I learned so much from. And you never know what's going to happen when you just decide to jump — and God willing, I'm going to land, and I'm going to land on a star. I feel like my steps are ordained and every place that I've gone, I was supposed to be there in that moment.
What were you doing before you started acting?
JL: When I graduated from Hampton University, I moved back to D.C., and I worked for the government. I was working for this program called the Retroactive Stop Loss Program, and basically we paid soldiers who were held beyond their contracts when they went to Iraq. I specifically started working with deceased soldiers.
The hardest part of that job was that people would call in and say my contract is due and I'm owed. Our job [was] to do all the research and find out exactly what they're owed, if anything. But what I never wanted anyone who may be a family of a deceased soldier, I never wanted them to call in and be declined. I proactively found those soldiers and went through those cases and then reached out to them.
It was fulfilling because I was helping soldiers. But I felt like I had so much more for my passion — and my passion has always been acting. When you're working those government jobs, they can be very cushy. I gave it up because I wanted to sacrifice what I could tell was definite for something that was worth more to me. Acting to me would have been more fulfilling. I am a person who doesn't like to live with regrets. And I'm glad I did this.