Mic Daily: Justice Department argues in favor of transgender discrimination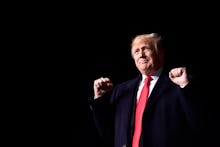 Good evening, folks, and happy Thursday to you all. I'm sending you good vibes as we tiptoe closer to the weekend. Here are the top five stories out of Mic today.
Florida's gubernatorial candidates — Democrat Andrew Gillum and Republican Ron DeSantis — traded fierce jabs over the course of an hourlong debate Wednesday night. One standout moment, which was quickly circulated far and wide on social media, came when Gillum said, "I'm not calling Mr. DeSantis a racist, I'm simply saying the racists believe he's a racist."
President Donald Trump has repeatedly threatened to send troops to the U.S.-Mexico border — and now, that threat seems to be coming to fruition. As a caravan of thousands of migrants seeking asylum in the U.S. trudges ever closer, Secretary of Defense James Mattis will reportedly deploy hundreds of troops.
The Department of Justice argued to the Supreme Court on Wednesday that the civil rights laws banning discrimination on the basis of sex do not apply to transgender folks. This, in concert with reports the Trump administration plans to limit the definition of gender to exclude transgender and gender nonbinary people, is — plainly stated — horrific.
In the latest chapter of the saga of voter suppression allegations swirling around Georgia's Republican gubernatorial candidate Brian Kemp, the secretary of state's office has alleged that reports of malfunctioning electronic voter machines changing votes for gubernatorial candidate Stacey Abrams to votes for Kemp are probably just mistakes being made by voters.
Andrew Zimmern, host of Travel Channel's Bizarre Foods franchise, recently spoke alongside several of his colleagues on a panel hosted by the New York City Wine and Food Festival.
There, Zimmern said, "The hospitality industry is such a special industry, because not only do we disproportionately employ a large majority of [documented] and [undocumented] workers, but we disproportionately also afford them a success story and a path to that American dream."
Mic Daily is Mic's newsletter that cuts through the noise and lands in your inbox every weekday. We carefully curate each edition to send you a cross section of our most vital stories of the day.