Mic Daily: Kavanaugh's confirmation becomes all-but-certain — and other news of the day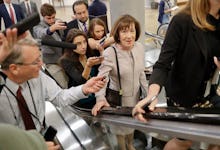 Welcome to Mic Daily: Mic's newsletter that cuts through the noise and lands in your inbox every weekday. We carefully curate each edition to send you a cross section of our most vital stories of the day.
Want more entertainment news in your inbox? Sign up for Hype Daily — Mic's morning entertainment briefing. It's got all the news you need to start your day.
A jury on Friday found Chicago police officer Jason Van Dyke guilty of second-degree murder in the 2014 shooting death of 17-year-old Laquan McDonald, the Chicago Tribune reported. Van Dyke had pleaded not guilty to the charges, claiming he shot McDonald in self-defense.
He was also found guilty of 16 counts of aggravated battery with a firearm.
Sen. Susan Collins (R-Maine) announced on Friday afternoon that she will vote for Brett Kavanaugh's nomination, assuring that he will be confirmed to the Supreme Court, despite allegations of sexual assault.
"I do not believe that these charges can fairly prevent Judge Kavanaugh from serving on the court," Collins said.
At the Natural History Museum Rotterdam, museum-goers can visit a sparrow who knocked over 23,000 dominoes, a weasel who collided with a transformer at the world's largest machine and other animal corpses with absurd, darkly hilarious — and sometimes straight-up tragic — stories behind their deaths.
Black metal bands are infamous for embracing neo-Nazi ideologies. In the 1980s, the satanic subgenre of metal emerged, and by the 1990s, a neo-fascist scene, the "national socialist black metal," had evolved out of the genre and spread throughout Europe. For instance, Norwegian bands like Burzum and Mayhem were known for church burnings, committing murder and supporting neo-Nazism.
But now there's a new wave of black metal that's renouncing white supremacy and incorporating, instead, the African-American musical roots of rock 'n' roll.
Friday marks a year since the New York Times published Jodi Kantor and Megan Twohey's bombshell report alleging that Hollywood producer Harvey Weinstein had a decades-long pattern of leveraging his position in the industry to systemically harass and intimidate female employees and actresses.