Trump doubles down on baseless claim that Kavanaugh protesters are "paid"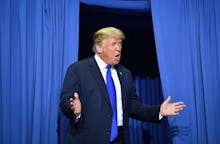 President Donald Trump on Saturday doubled down on his unsubstantiated claim that Americans protesting Supreme Court nominee Brett Kavanaugh have been paid to do so.
"Women for Kavanaugh, and many others who support this very good man, are gathering all over Capitol Hill in preparation for a 3-5 P.M. VOTE," Trump tweeted. "It is a beautiful thing to see — and they are not paid professional protesters who are handed expensive signs."
Trump first floated the theory Friday, when he tweeted that "the very rude elevator screamers are paid professionals only looking to make senators look bad."
He claimed, without evidence, that the signs protesters carried opposing Kavanaugh's confirmation were "professionally made" and paid for by Democratic donor George Soros.
"These are not signs made in the basement from love!" he added.
It was a bizarre claim, but a familiar one for many on the right, who have accused Soros of bankrolling other prominent protests.
Demonstrators this week have had a number of high-profile confrontations with lawmakers on Capitol Hill as Republicans inched closer to confirming Kavanaugh, who has been publicly accused by three women of sexual assault.
He is expected to be confirmed Saturday in a largely party-line vote.
"Big day for America!" Trump tweeted Saturday.