"Shame on you!": Protesters, Democrats react to Kavanaugh confirmation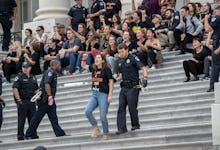 Protesters rallied against Brett Kavanaugh on Saturday as the Senate voted to confirm President Donald Trump's nominee to the Supreme Court.
Hundreds of demonstrators protested on Capitol Hill, chanting "vote them out" and "November is coming."
Kavanaugh was confirmed by the Senate on Saturday in a largely party line vote.
Protesters could be heard shouting in the Senate chamber as Vice President Mike Pence presided over the final vote.
"Shame on you!" protesters yelled from the Senate gallery.
The Trump appointee has been publicly accused of sexual misconduct by three women in recent weeks, and critics have characterized his confirmation as an affront to survivors of sexual assault.
"The Senate is about to elevate a nominee who doesn't belong on the nation's highest bench," Senate Minority Leader Chuck Schumer said before the confirmation vote, adding that the judge is an "extreme partisan" with an "injudicious demeanor."
The New York Democrat also blasted the "biased, unfair" confirmation process and urged Americans to vote.
"Change must come from where change in America always begins: the ballot box," he said.
The final vote Saturday capped a bitter confirmation process that included a heated Capitol Hill hearing on the abuse allegations Palo Alto University professor Christine Blasey Ford leveled against him in September.
Ford testified in the Senate Judiciary Committee that Kavanaugh had drunkenly attacked her at a party when they were teenagers in the early 1980s. Kavanaugh forcefully and tearfully denied the accusations in a fiery opening statement and was openly hostile toward Democrats as they questioned him about the alleged assault and his drinking habits.
The hearing triggered a "limited" FBI investigation into the allegations.
Trump and the Republicans said the probe supported their contention that Ford's allegations were "uncorroborated," but Democrats — and Ford — said the investigation was inadequate.
Protesters railed against Kavanaugh on Capitol Hill in the week leading up to the final vote Saturday.
Democrats spent hours on the Senate floor ahead of the vote speaking out against Kavanaugh.
Critics have objected to Kavanaugh over his sexual assault allegations, as well as his record and statements that have been widely regarded as partisan.
Trump has slammed the demonstrators and accused them of being "paid" by Democratic mega-donor George Soros to "make senators look bad."
"Don't fall for it!" Trump tweeted Friday.
Republicans, with the exception of Sen. Lisa Murkowski (R-Alaska), all voted to confirm Kavanaugh.
Every Democrat voted against the Trump appointee, except for Sen. Joe Manchin (D-W.Va.), who voted with the Republicans despite "reservations" about Kavanaugh's character and the accusations against him.