Trump cheers Kavanaugh confirmation: "Very exciting!"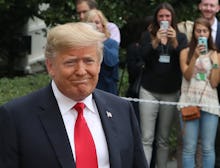 President Donald Trump celebrated Saturday after the Senate voted to confirm Brett Kavanaugh to the Supreme Court following a contentious battle over his nomination.
"I applaud and congratulate the U.S. Senate for confirming our GREAT NOMINEE, Judge Brett Kavanaugh, to the United States Supreme Court," Trump tweeted after the vote Saturday. "Later today, I will sign his Commission of Appointment, and he will be officially sworn in."
"Very exciting!" Trump added.
The Senate on Saturday voted 50-48 to confirm, with just one Democrat — Sen. Joe Manchin (D-W.Va.) — voting in Kavanaugh's favor.
Sen. Lisa Murkowski (R-Alaska), who announced Friday that she opposed Kavanaugh, voted present. Sen. Steve Daines (R-Mt.) was not present for the vote so he could attend his daughter's wedding.
Kavanaugh's nomination had appeared to be in jeopardy in September when three women publicly accused him of sexual misconduct — allegations the judge has adamantly denied.
Trump has strongly defended Kavanaugh since the allegations surfaced, even as he ordered the FBI to conduct a "limited" investigation to examine the accusations professor Christine Blasey Ford leveled at the judge in a heated hearing on Capitol Hill last month.
The FBI concluded its investigation earlier this week. While Democrats and Ford deemed the probe inadequate, Republicans said the inquiry had confirmed the psychology professor's allegations were "uncorroborated" and scheduled a final vote for the judge on Saturday.
Demonstrators protested as the Senate confirmed Kavanaugh to the nation's high court, interrupting the vote multiple times with chants of "shame on you!"
The confirmation represents one of the biggest wins for Trump since he's assumed office.
He'd made the Supreme Court a significant part of his pitch to voters during the campaign, promising to "appoint judges very much in the mold of [Antonin Scalia]."
He has presided over what appears to be a major rightward shift on the nation's high court. Neil Gorsuch, his first nominee, was confirmed in 2017 to replace the late Scalia. Kavanaugh, his second nominee, will now replace retired associate justice Anthony Kennedy, who had been seen as one of the court's moderate voices.
"I think [Kavanaugh is] gonna make us all very proud," Trump said as he left Washington for a rally Saturday, just before the vote. "This is a very exciting time."