South Korea says a second US-North Korea summit is coming after Mike Pompeo meets with Kim Jong Un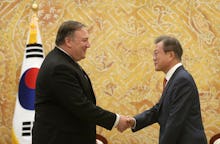 U.S. Secretary of State Mike Pompeo met with North Korean leader Kim Jong Un on Sunday, which he hailed as a "step forward" for the U.S.-North Korea relationship and could lead to a second U.S.-North Korean summit.
"We had a good, productive conversation," Pompeo said in remarks to South Korean President Moon Jae-in Sunday. "As President Trump has said, there are many steps along the way and we took one of those today; it was another step forward. So this is, I think, a good outcome for all."
Pompeo added in a tweet that he had a "good trip" and the two continued "to make progress" in their meeting, which took place for approximately two hours, followed by a working lunch.
NBC News reported South Korea said in a statement that the meeting could point to further U.S.-North Korea relations, including a second summit between the two countries' leaders in the near future.
"Secretary Pompeo said he and chairman Kim concurred that they will hold the second U.S.-North Korea summit as soon as possible," South Korean press secretary Yoon Young-chan said in a statement. "The two sides also agreed to continue discussions to decide on the detailed timing and location of the second summit."
The weekend trip marked Pompeo's fourth visit to North Korea, whose relationship with the United States has been mixed in the wake of President Donald Trump's summit in June with Kim. The country has reportedly continued to make progress on its nuclear program following the summit despite Trump's claims on Twitter there was "no longer a nuclear threat from North Korea," and the North Korean government slammed Pompeo's "gangster-like demands" for denuclearization in July and again in September.
Trump, however, has continued to praise his relationship with Kim. Though senior administration officials told Reuters in September the two countries had made "no progress" on eliminating North Korea's nuclear programs, the president said during a Sept. 30 rally that he and Kim "fell in love" after the leader wrote him "beautiful letters."
Trump tweeted about Pompeo's meeting with Kim on Sunday morning, saying he's "looking forward to seeing Chairman Kim again, in the near future."