Susan Collins defends Kavanaugh's temperament, says she doesn't believe he assaulted Blasey Ford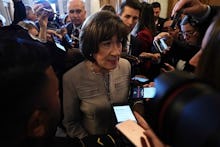 Sen. Susan Collins (R-Maine) defended her divisive vote to confirm Brett Kavanaugh to the U.S. Supreme Court, saying Sunday she does not believe he is guilty of sexual assault.
In interviews that aired Sunday on CNN's State of the Union and CBS' Face the Nation, Collins said that while she thinks professor Christine Blasey Ford "believes what she testified to" in alleging Kavanaugh sexually assaulted her in the 1980s, she "does not believe Brett Kavanaugh was her assailant."
"I found Dr. Ford's testimony to be heart-wrenching, painful, compelling, and I believe that she believes what she testified to," Collins said Sunday on CNN. "I don't think she was coming forth with a political motive. ... But we also had a case where Judge Kavanaugh came forward and said I'm 100% certain that this did not happen.
"So here you have two people, who are each 100% certain of what they're saying, under pain of perjury, so then I had to look at the other evidence, and was there corroborating evidence, and that's why I pushed hard for the FBI to do a supplemental background investigation."
"So do you still think it is possible that he did it?" host Dana Bash asked Collins. "You just don't have the proof to back that up?"
"I do not believe that Brett Kavanaugh was her assailant," Collins said. "I do believe that she was assaulted. I don't know by whom and I'm not certain when, but I do not believe that he was the assailant."
Collins highlighted the seeming lack of corroborating evidence to justify her decision, pointing out that witness testimony from others alleged to have been at the same party as Kavanaugh and Ford have no memory of the event. When Bash pointed out that it has often been the case that victims remember events that others do not, as for them the evening was "unremarkable," Collins said she "really [doesn't] think that is possible" in this case.
"When Christine Ford testified that she ran down the stairs and out the door, surely her best friend who was there would have followed her and asked her what was wrong," Collins said. "Nobody's come forward to say, 'I'm the one who gave you a ride home,' or 'I'm the other person who was at the party.'
"I'm not saying that she was not sexually assaulted; I believe that she was, and that horrible experience has upended her life. But it does not mean that Brett Kavanaugh was her assailant."
Collins' theory that Ford was assaulted by someone other than Kavanaugh echoes the thoughts of Kavanaugh's other right-wing supporters, including President Donald Trump. When asked Saturday whether he was certain Ford accused the wrong person of sexual assault, Trump responded, "100%."
The mistaken identity theory was first pushed by conservative lawyer Ed Whelan, who initially suggested a classmate of Kavanaugh's committed the assault. Whelan later apologized for the theory, which he described as being "appalling and inexcusable."
Ford testified during her Senate hearing she was "100%" certain she had not misidentified Kavanaugh as her assailant, and she has provided testimony from others confirming she named Kavanaugh as her attacker before his nomination to the Supreme Court. Though the other named witnesses could not corroborate her account, friend Leland Keyser, who was allegedly at the party where the alleged assault took place, said she does believe Ford's allegations.
Kavanaugh's temperament
In addition to the allegations of sexual misconduct against him, Kavanaugh's confirmation was also thrown into doubt by the judge's own behavior at his Senate Judiciary Committee hearing discussing the allegations. During the hearing, Kavanaugh argued with senators, proclaimed his love of beer, pointed to a 1982 calendar as seeming proof of his innocence and decried the criticism against him as partisan attacks and "revenge on behalf of the Clintons."
While Kavanaugh's behavior was seen as disqualifying by many, including another swing-vote senator, Lisa Murkowski (R-Alaska), who voted against Kavanaugh, it seemingly helped Kavanaugh win over Collins and earn her vote.
"I was certainly undecided and after hearing Christine Ford's very compelling and painful testimony, I thought, 'Oh my goodness, he perhaps needs to withdraw,'" Collins said on CNN. "But then when he came back with such a forceful denial and the anger and anguish that he showed, and then the lack of corroboration, led me back to the fundamental issues that are fundamental to our legal system of presumption of innocence and fairness."
When asked directly on CBS about Kavanaugh's temperament, Collins stated she found his denial of the allegations during his second Senate hearing "very powerful."
"His anger and his anguish — I think is, are understandable given that he's been accused of being involved in gang rapes of women," Collins said, citing subsequent allegations against Kavanaugh by Julie Swetnick. "I mean, that is a devastating allegation. So I think it was understandable that he was reacting as a human being, as a father, as a father of two young girls. But I will say that I thought his questioning — with the questioning with the senators — that he went over the line, and I was glad that he apologized to Amy Klobuchar in particular."
Collins added she believed Kavanaugh's past judicial behavior suggests he will not bring partisan biases into the Supreme Court, despite the Democratic opposition to his confirmation that he so vehemently criticized.
"When he was first nominated it was in 2004, his nomination was delayed for two years by the Democrats," Collins said on CBS. "He had very hostile hearings in 2004 and 2006 when he was finally confirmed for the court. And yet that did not affect his performance as a judge for 12 years on the D.C. Circuit. In addition, 500 people were interviewed about his temperament and did he treat all litigants with respect and to a person they said he did."
Collins' approval of Kavanaugh as a swing vote in his confirmation fight assured his confirmation to the Supreme Court even as criticism against the judge continued to mount. In addition to public opposition to Kavanaugh and calls to oppose his confirmation from the National Council of Churches and more than 2,400 law professors, including the former dean of Yale Law School, the American Bar Association announced Friday it would reopen its evaluation of Kavanaugh's fitness for the court. The Washington Post also reported Saturday a judge on the U.S. Court of Appeals for the D.C. Circuit, where Kavanaugh previously served, passed on "more than a dozen" judicial misconduct complaints about Kavanaugh to Chief Justice John Roberts.
The complaints, which Roberts received beginning three weeks ago, concerned Kavanaugh's public statements during his confirmation process and not his judicial record. Circuit Court Judge Karen LeCraft Henderson believed some of the complaints were substantive enough to merit consideration by a panel outside the D.C. Circuit Court, though Roberts did not refer the complaints to another appeals court.
The complaints could be dismissed now that Kavanaugh is on the Supreme Court. The situation is seemingly uncharted territory; sources cited by the Post said the complaints marked the first time a fellow judge has recommended charges against a nominee poised to be confirmed to the Supreme Court.
Correction: Oct. 8, 2018