Hype Daily: Taylor Swift gets political and more entertainment news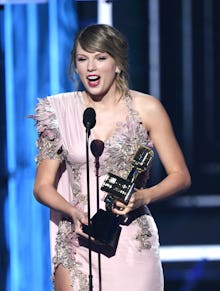 Welcome to Hype Daily, Mic's morning entertainment roundup. Here's everything you need to catch up on in the entertainment world and what to look forward to today. Want to receive this as a daily email in your inbox? Subscribe here.
Welcome back, dear readers, and happy Monday! Hope everyone had a restful weekend. Time to wake up with a hot cup of entertainment news!
In a rare move, Taylor Swift got political on her Instagram
Pop star Taylor Swift is notoriously apolitical, so it's kind of shocking that she posted a long screed on her Instagram Sunday evening urging fans to vote in the midterms and even endorsing specific candidates in two Tennessee races — Democrats Phil Bredesen and Jim Cooper.
"I'm writing this post about the upcoming midterm elections on November 6th, in which I'll be voting in the state of Tennessee," Swift began her post. "In the past I've been reluctant to publicly voice my political opinions, but due to several events in my life and in the world in the past two years, I feel very differently about that now."
She went on to say, "I believe in the fight for LGBTQ rights, and that any form of discrimination based on sexual orientation or gender is WRONG. I believe that the systemic racism we still see in this country towards people of color is terrifying, sickening and prevalent." Will Taylor Swift be the get-out-the-vote effort that the midterms needed? I guess we'll see. Read the whole post here.
Here's your weekend box office roundup
Despite a bunch of negative reviews, the dark antihero movie Venom cleaned up at the box office this weekend, taking the top slot with a whopping $80 million in ticket sales in the U.S. and Canada, according to the Associated Press. The Bradley Cooper and Lady Gaga drama A Star Is Born came in second, with a total of $41.3 million in ticket sales. Together, the two movies helped make this past weekend the strongest October weekend ever for the industry.
And The Hate U Give, a film adaptation of a young adult novel about police brutality, opened in limited release, making a total of $500,000. It will expand to theaters across the country over the next few weeks.
Audrey Wells, The Hate U Give screenwriter, died the day before the film's release
The day before The Hate U Give opened in theaters, Audrey Wells, who wrote the film's screenplay, died at the age of 58, the Associated Press reported. She had cancer. Wells also penned the screenplays for The Truth About Cats and Dogs and Shall We Dance, which starred Jennifer Lopez and Richard Gere. She both wrote and directed the film Under the Tuscan Sun.
Wells is survived by her husband, Brian Larky, and daughter, Tatiana. In a statement, Larky said Wells "fought valiantly against her illness" and that she died, "surrounded by love," according to the AP.
Kanye West quit social media again
Following a bizarre appearance on Saturday Night Live and a series of confusing tweets about the 13th Amendment, Kanye West appears to have completely shut down his social media presence ... again. According to E! News, West's Instagram and Twitter accounts have gone dark. Maybe he's working really, really hard on his upcoming album Yandhi, which has already been delayed once. Or maybe Kris Jenner took his phone away.
Put this on your radar: Big Mouth season 2
I know I shouted out the trailer for the second season of Big Mouth when it first came out, but now the whole new season is on Netflix (it dropped on Friday) and reader, I binged the whole thing over the weekend.
Big Mouth is an animated show from Nick Kroll and Andrew Goldberg about horny middle-schoolers struggling through puberty, and the second season is weirder, dirtier and, dare I say, funnier than the first. Special shoutout to Maya Rudolph, who voices one of the "hormone monsters" who visits the teens.