Brett Kavanaugh is the first member of the Supreme Court to hire an all-female class of law clerks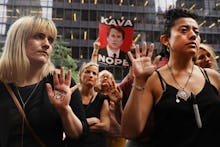 Brett Kavanaugh ascended to the U.S. Supreme Court on Saturday over the widespread objections of women across the country — and one of his first actions was to install an all-female staff.
Kavanaugh's four law clerks on the Supreme Court are all women, the New York Times reported Sunday, which is a first for the high court. Women also now make up the majority of Supreme Court law clerks for the first time in the court's history.
Kavanaugh's hiring decision follows through on a statement he made during his second Senate Judiciary Committee hearing, in which he testified on allegations of sexual assault against him by professor Christine Blasey Ford. Kavanaugh pointed to his record of hiring female law clerks to defend his respect of women, noting that of the law clerks he had provisionally hired to work for him on the Supreme Court, "all four are women."
The law clerks include one former clerk of Kavanaugh's from the D.C. Circuit Court, Kim Jackson, and Shannon Grammel and Megan Lacy, who previously clerked for other appeals court justices. The fourth clerk, Sara Nommensen, is a former student of Kavanaugh's from Harvard Law School who previously worked at the U.S. Department of Justice's Office of Legal Counsel.
According to the National Law Journal, Kavanaugh hired 25 women and 23 men while serving as an appeals court judge on the D.C. Circuit. Eighteen of his former female law clerks signed a letter to the Senate Judiciary Committee in support of Kavanaugh's confirmation in July.
Most of Kavanaugh's female law clerks continued to support the judge after allegations of sexual misconduct came out against him. Three former law clerks — one of whom is a woman who signed the initial letter — signed a subsequent letter saying they were "deeply troubled" by the allegations and supported an FBI investigation.
Kavanaugh's history of hiring female law clerks was also complicated by a report in the Guardian alleging Yale Law School professor Amy Chua advised female law students who wanted to work for Kavanaugh on their physical appearance, saying it was "'not an accident' that Kavanaugh's female law clerks 'looked like models.'" Chua denied the report, saying in a statement to the Guardian that Kavanaugh "only hires those who are extraordinarily qualified."
Kavanaugh's hiring choice come after his contentious Supreme Court confirmation that was overwhelmingly opposed by women; polls released in late September showed only 26% of women supported the confirmation, including less than half of Republican women. Ford's allegations and the ensuing public scrutiny inspired women across the country to share their own stories of sexual assault, and many women reported feeling personally victimized by Kavanaugh's confirmation and the willingness of predominantly Republican lawmakers to overlook the attempted rape allegation against him.
Women also opposed Kavanaugh's nomination even before the sexual misconduct charges emerged, believing he will provide the deciding vote to weaken reproductive rights and perhaps overturn the landmark abortion ruling Roe v. Wade, as well as affect such other issues as LGBTQ rights and women's economic stability.
"I applaud in general a commitment to hiring a diverse group of clerks, and hope all the justices encourage applicants of color, women and those with backgrounds beyond the usual elite," Constitutional Accountability Center president Elizabeth B. Wydra told the Times about Kavanaugh's hiring decision.
"Unfortunately, it's going to take a lot more than female clerks to undo the damage to the legitimacy of the court done by this travesty of a confirmation process. Women will feel much more confident in the court when their fundamental rights are protected and their equal dignity is respected in the rulings handed down by the justices."