How Democrats are using their own personal health care stories to win in the midterms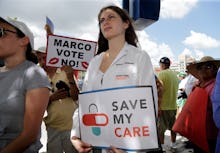 For months now, health care has been moving to front-and-center in Democratic messaging in the midterm elections. Not only are Democratic nominees running on protecting pre-existing conditions, but they're doing so by airing their own personal stories in an effort to connect with voters and show why they are committed to providing better health care for their constituents.
"Voters don't trust the left or the right, the institutions or the insurgents. They trust people who are authentic and give a reason for what they're doing," Jesse Ferguson, a Democratic strategist who has been working with the health care advocacy group Protect Our Care in the 2018 midterms, said in an interview. "Talking about your own health care situation is one way to demonstrate and prove your very real concern about the issue."
Health care is a top issue Democrats are running ads on in 2018, with 52% of the party's campaign spots focused on it as of August, according to a study from the Wesleyan Media Project.
Former Acting Assistant Secretary of Defense Elissa Slotkin, the Democratic nominee in Michigan's 8th District who is trying to unseat GOP Rep. Mike Bishop, released one of the most personal ads on health care yet. She spoke about her mother's experience with cancer — first breast cancer and later ovarian cancer, from which she ultimately died — and said Bishop's vote to repeal the Affordable Care Act was what caused her to run in the first place.
"This is a story about my mom, but it could be about anyone's mom," Slotkin says in the ad. She goes on to talk about how her mom lost her job and health insurance, and couldn't afford the premiums when she was sick.
"So when I saw Congressman Bishop smiling at the White House after voting to gut protections for pre-existing conditions, something inside me broke," Slotkin says, referring to the celebration House Republicans had in the White House Rose Garden when they passed the American Health Care Act, which later failed in the Senate. "I'm running for Congress and I approve this message, because Mr. Bishop, that's dereliction of duty, and it's a fireable offense."
Slotkin's race is rated a "toss-up" by the nonpartisan political handicapping outlet Inside Elections. President Donald Trump carried Michigan's 8th District by a 7-point margin in 2016.
In Illinois' 13th District, Democratic nominee Betsy Dirksen Londrigan speaks about her son's near-death experience from a tick bite, and how it pushed her to want good, affordable health care for everyone.
"Nine years ago, a family hike almost cost our son Jack his life," Longridan says in the 30-second spot. "A simple tick bite led to a deadly infection that put Jack in intensive care for 21 days. He was read last rites twice. ... Thankfully he came home. But then the bills started coming. Without good insurance, we would have been bankrupt. I approve this message because now I want to make sure every parent can afford good health care for their family, too."
Londrigan is facing GOP Rep. Rodney Davis in a district Trump carried by a 5-point margin in 2016. Inside Elections says the race "leans Republican."
And Katie Porter, the Democratic nominee running against GOP Rep. Mimi Walters in California's 45th District, talked about her experience with appendicitis while already running and how it shaped her view on health care.
"I didn't expect to wind up in the emergency room while running for Congress," Porter says in the ad. "But when my appendix burst, quality health care literally saved my life. ... Every Orange County family should have access to health care. I'll stand up to Donald Trump and leaders of both parties, defend health care and protect Planned Parenthood and women's rights."
Inside Elections rates this Orange County-based district a "toss-up" — indicative of the shift the country is seeing in suburbs across the country, with moderate Republicans turning away from the GOP thanks to distaste of Trump and his policies.
It's not only in the House where Democratic candidates are using their own personal health care stories in ads. Democratic Sens. Heidi Heitkamp of North Dakota and Claire McCaskill of Missouri — two of the most vulnerable Democrats up for re-election in the Senate this cycle — both ran ads about their own experiences with breast cancer and how it shaped their views on health care.
Heitkamp talks about her experience and then has a constituent who also has a pre-existing condition speak directly to the Republican nominee in the race, GOP Rep. Kevin Cramer.
"Mr. Cramer, I don't know why you voted to let insurance companies go back to denying coverage for pre-existing conditions. But I know Heidi would never do that," Denise Sandvick, a North Dakotan voter, says in the ad.
McCaskill uses her experience with breast cancer to attack her opponent, Missouri Attorney General Josh Hawley, who signed Missouri onto a lawsuit that, if successful, would allow insurance companies to deny coverage to those with pre-existing conditions.
"Two years ago, I beat breast cancer," McCaskill says in the ad. "Like thousands of other women in Missouri, I don't talk about it much. But those who face cancer and many other illnesses have a pre-existing condition when it comes to health coverage. Unfortunately, Josh Hawley filed a lawsuit letting insurance companies deny coverage for those with pre-existing conditions. Thats just wrong, and I'm fighting to stop it."
Polls show health care is one of the most important issues on voters' minds in the midterms. And that's helping Democrats, as voters largely say they trust Democrats on the issue more than Republicans.
"When over 100 million Americans have a pre-existing condition and every American is hit by GOP health care cost hikes, Democrats have a chance to do more than just tell people they're on their side," Ferguson said. "They have an opportunity to show them."