Ted Cruz slightly leading Beto O'Rourke in Texas Senate race, polls show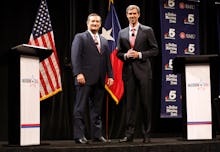 New polls out this week from CBS News/YouGov and Emerson College put incumbent Texas Sen. Ted Cruz ahead of his Democratic rival, Rep. Beto O'Rourke, by a 6 points and 5 points, respectively — a troubling sign for a progressive challenger whose road to victory in the Lone Star State has been fraught from the start.
With 29 days to go until the midterm elections, a RealClearPolitics average of all available polling data for the two candidates shows Cruz edging out O'Rourke by an average of 6 points. As CBS News points out, Cruz won the Senate seat handily by 16 points in 2012 — meaning that in narrowing the gap to just single digits, O'Rourke has already pulled off a major political feat.
In order to flip the state blue for the first time since 1994, O'Rourke will now need to outmaneuver Cruz, who has become a trusted and stalwart figure in Texas politics by mobilizing the young and Latino voters that tend to vote Democrat.
The Texas Senate race is one of several in this election season to draw national attention for its outsized symbolic implications for the rest of the country. Cruz, an establishment candidate who has been campaigning alongside President Donald Trump and his son Donald Trump Jr., has a spirited contender in O'Rourke, an outspoken progressive who has advocated ardently for criminal justice reform, gun safety and expanding health care for Texans.
"I think at this moment, it's not about Democrats or Republicans or party politics or the differences that have always seemed define us," O'Rourke recently told CBS This Morning. "It's about this country coming together around the things that we care most about at this moment of truth. We're either going to be a country of walls, Muslim bans and the press as the enemy of the people, or instead we'll be defined by our ambitions."
During a separate appearance on the same program, Cruz sold a different version of events, claiming that his campaign would win the day for representing the values that Texans truly care about.
"The reason that we have a competitive race is it is clear that the hard left, the extreme left in this country, that they're angry," Cruz said. "Many of them are filled with hatred for President Trump and it colors everything else.
"Texans want lower taxes, we want lower regulations, we want more jobs, higher wages and more opportunity. We want to secure the border… Those are the common-sense values that bring Texas together."