Melania Trump comes under attack for wearing a helmet that has come to symbolize white rule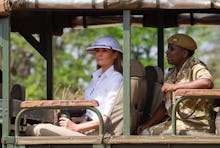 During her trip to Africa, her first solo foreign trip as first lady, Melania Trump wore a Vince suede leather trench coat, a burgundy and white Phoebe Philo-designed Celine dress and an Erdem kasia paisley parrot shirtdress. These pieces were all in line with the fashions we've come to expect from her.
But it was another look, a more seemingly demure one, that sparked outrage. Near the end of her trip in Nairobi, Kenya, on Friday, Mrs. Trump completed her look during a planned safari trip by wearing a white pith helmet.
The helmet, as pointed out by a number of media outlets, is a common symbol of white colonial rule and native oppression first popularized in the late 19th century.
"Symbols are meaningful," fashion commentator Pierre A. M'Pelé said in an interview. "A visual symbol is stronger than any word, and the choice of a particular item of clothing and/or accessory deriving from a particular social or political lexicon is symbolic. Fashion is the greatest reminder of all, it affixes itself to historical events thus becoming incredibly manifest."
Despite this, and even with growing fodder online under the hashtag #FLOTUSinAfricaBingo, the first lady was not interested in any conversation or dissection of the look.
"We just completed an amazing trip — we went to Ghana, we went to Malawi, we went to Kenya, here we are in Egypt," she told pool reporters when asked about the look. "I want to talk about my trip and not what I wear. That's very important."
For a woman who doesn't want to talk about what she wears, she's sure made a number of fashion statements charged with social and political commentaries. First there was her repeated wearing of the pussy bow during the 2016 debates, then the hurricane stilettos for her trip to flood-torn Texas as a result of Hurricane Harvey and most recently the "I really don't care. Do U?" jacket Mrs. Trump donned while visiting detained children.