Amsterdam's best hidden attraction is a houseboat full of cats, where anyone can play with strays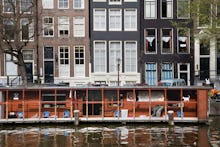 Most of the 2,400 houseboats that line Amsterdam's idyllic canals are private homes belonging to wealthy Dutch residents. For their money and good fortune, houseboat owners have been nicknamed "wateryuppies" by the locals. But one of these boats, located less than a 10-minute walk from Amsterdam's Centraal station, serves a bigger purpose: it shelters about 50 cats at a time.
A modest staircase from street to water leads to De Poezenboot — or The Catboat — where volunteers treat many lucky felines to food, shelter and behind-the-ear scratches while they do cat things aboard. De Poezenboot is a nonprofit rescue that takes in both stray cats and those surrendered by their owners. While many of the cats are up for adoption, some are long-time to permanent residents of the boat. "The ones that walk around are from outside, and the hope is they will get used to us, but they're not really house cats," Judith Gobets, one of the boat's staff, said, adding that these cats are less likely to become "lap cats" than those who were previously owned by people. Whether adopted or not, all of the cats are seen by a veterinarian, spayed or neutered and microchipped for safety purposes.
Dutch cats have been living at this prized piece of real estate since 1968, when Henriette v. Weelde bought a boat to make space for the many cats she had rescued and cared for. The original boat was a Dutch sailing barge, and after years of use it was replaced by a Dutch houseboat that still serves the cats today. According to Gobets, the boat has central heating in the winter and the cats have access to the outside year-round. Their space is also filled with comfy beds, scratching posts and plenty of boxes to play with.
In 2005, Weelde passed away at the age of 90. Gobets, who volunteered with the founder since she was a teenager, took the reigns and now works part-time while overseeing a host of volunteers. Her son has been helping her manage De Poezenboot's social media.
As the world's only floating cat shelter, the team and its volunteers have had to learn how to keep the operation afloat as they go. Only recently did the team install a lower line of fencing to prevent the cats from reaching into the canal and snatching young chicks. Now they can still watch the birds bob by, but won't be able to act on their hunting instincts, Gobets said.
De Poezenboot has always been a popular place to visit for locals and cat lovers who do their research — it's open to all from 1:00 p.m. to 3:00 p.m., and closed Wednesdays and Sundays. Recently, thanks to what Gobets credits as internet exposure, its visitor count has soared. "Now we get a lot of people that don't like cats especially but just want to see the boat with cats," Gobets said. "I don't like that that much. I'd rather have people that really like cats and want to see us because of the cats." Despite the rise in bucket-list visitors, the surge of guests is beneficial to the cat boat. Entrance is free of charge with a recommended donation — all of which goes right back to the cats.