Ciara Minaj Carter Frazier, a transgender woman, was found fatally stabbed in Chicago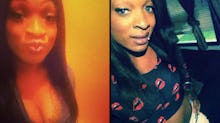 A transgender woman who was found fatally stabbed in Chicago on Wednesday has been identified as Ciara Minaj Carter Frazier, 31, the Chicago Sun-Times reported on Thursday.
According to the Sun-Times, police said Frazier was fatally stabbed in an abandoned building in Chicago's West Garfield Park neighborhood after a "disagreement" with the man she was with. Frazier's body was discovered in the building's backyard. She was pronounced dead at the scene.
As news of her death spread, friends and loved ones left messages of mourning on Frazier's Facebook profile picture. "Daughter I'm so hurt right now!!! Love you to the moon and back, Rest Easy," one said. Another read, "Can't believe what I'm reading we didn't always see eye to eye but we loved each other, rest in roses friend."
The Sun-Times reported Frazier's death was ruled a homicide after an autopsy on Thursday. Frazier's death comes a little over a month after another black trans woman, 24-year-old Dejanay Stanton, was fatally shot in Chicago.
Local trans activist LaSaia Wade, of the Chicago trans rights group Brave Space Alliance, who knew Frazier personally, told the Sun-Times she felt more was needed from the authorities responsible for investigating Stanton and Frazier's deaths.
"It feels like we are being targeted," Wade told the Sun-Times. "I'm frustrated and upset with the lack of cases turning around. There is a lack of needs for our safety from police."
See more of Mic's coverage of trans victims of homicide across the country here.