Hope Hicks named Fox's new communications chief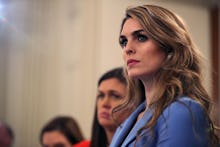 Hope Hicks is moving out of the White House and into the boardroom.
The New York Times reported Monday that Hicks, who formerly served as communications director under President Donald Trump, will join Fox next year as its chief communications officer.
Fox — which was previously known as 21st Century Fox, until a merger with the Walt Disney Company in 2017 — is part of the media empire owned and controlled by conservative billionaire Rupert Murdoch, a longtime friend and adviser to Trump. In her new role, the Times reported, Hicks will relocate to Los Angeles and work in close concert with Murdoch's eldest son, Lachlan Murdoch, who is poised to become next chairman and chief executive of Fox.
During her tenure at the White House, which ended in February after she voluntarily abdicated the post, Hicks garnered a reputation among reporters for providing a window of accessibility into an administration known for its clandestine and often unpredictable moves.
On Monday, White House press secretary Sarah Huckabee Sanders tweeted to congratulate Hicks.
"FOX won't find anyone smarter or more talented than Hope Hicks," Sanders wrote. "So happy for my friend. They are beyond lucky to have you and the East Coast misses you already."