Here's how drag queens Shangela and Willam landed their roles in 'A Star Is Born'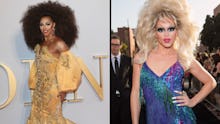 Lady Gaga and Bradley Cooper may be the official stars of the new romantic drama A Star Is Born (which Cooper also directed), but drag queens Shangela and Willam Belli steal every scene they're in. Shangela and William play friends of Gaga's character Ally and perform at the drag bar where she first meets Cooper's Jackson Maine.
Shangela is likely best known for her multiple appearances on the reality drag competition show RuPaul's Drag Race — she was a contestant in the show's second and third seasons and returned again for the third season of the special edition RuPaul's Drag Race: All Stars. Willam is also a drag race alum (she was actually kicked off of the show's fourth season in a dramatic exit) and has done quite a bit of acting, in shows like Difficult People, CSI and Nip/Tuck.
But how did the two land their parts in A Star Is Born, which was getting Oscar buzz even before it debuted in theaters on Friday? As the two revealed in a recent interview in Paper, they were both originally up for a role as a drag Marylin Monroe impersonator. (On Friday, to celebrate the film's release, Willam Instagrammed a photo of her Marilyn look from her first audition.)
Shangela didn't even originally plan on auditioning for the role — but then she got a message from Lady Gaga's team saying that Gaga herself wanted Shangela to go out for the part.
In a separate interview with Vulture published on Friday, Shangela described what it was like when she got the request. "Later I got an email from Lady Gaga's camp and they were like, 'LG heard you didn't come in for the audition. She really wants you to audition. She wanted to see you for this role,'" Shangela said.
"I had to step away from the computer for a second, I was like, 'LG … Lady Gaga? Oh my God.' So I was really thrilled. Honey, I went and found me a blonde wig, I found me a white Marilyn Monroe dress and I went in and sang 'I Wanna Be Loved By You' for the role. I was black Marilyn."
According to Vulture, Cooper eventually scrapped the idea of having a Marylin impersonator in the film — and both Shangela and Willam landed different parts. "It turned out I didn't get that role, but they liked the dialogue that I had so much with the personality that they ended up giving me a larger role that actually had dialogue in the film, the drag bar owner, Gaga's drag mother," Shangela told Paper.
That's right, the role Shangela got was as the drag bar's owner and Willam wound up playing a performer named Emerald. As the two told Vulture, they shot much of their first scene over two days in Los Angeles, and a lot of their dialogue was improvised. They even did a lot of their costuming themselves.
"They were like, 'Bradley wants you in white.' I said, 'Okay. Well I have a white dress at home, that's perfect,' Willam told Vulture. "My husband literally went to my production space where I keep all my drag, picked up the dress and the shoes and then brought it to the set. It was a perfect '80s Dolly look that randomly I just had laying around and it was white. Then I took their wig and then stacked my wig on top of it because the higher the hair, the closer to God."
Willam said that the moment where Emerald asks Jackson Maine to sign her fake breasts was her idea in the moment. "I ran off set and I was like, 'Somebody give me a Sharpie.' I think a wardrobe person or a PA handed me a Sharpie, and I went in, and he signed them," Willam said.
Both Willam and Shangela gushed to multiple outlets over the behind-the-scenes experience of working on the film, including Cooper and Gaga's gracious on-set behavior. And the end product wasn't bad, either. As Willam told Pride, "It's the biggest and best role I've ever had. And I have a name! My character's name is Emerald. Sometimes I'm just like, 'Drag Queen #2' or 'Streetwalker.' It was really nice to have a name and all that stuff."