Mic Daily: Taylor Swift faces conservative backlash — and other news of the day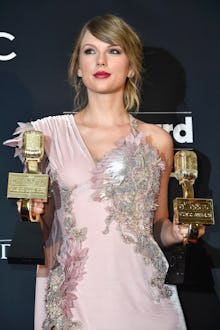 Welcome to Mic Daily: Mic's newsletter that cuts through the noise and lands in your inbox every weekday. We carefully curate each edition to send you a cross section of our most vital stories of the day.
Want more entertainment news in your inbox? Sign up for Hype Daily — Mic's morning entertainment briefing. It's got all the news you need to start your day.
For months now, health care has been moving to front-and-center in Democratic messaging in the midterm elections. Not only are Democratic nominees running on protecting pre-existing conditions, but they're doing so by airing their own personal stories in an effort to connect with voters and show why they are committed to providing better health care for their constituents.
Taylor Swift went from being the beloved, wholesome sweetheart of middle America to just another celebrity maligned in conservative circles on Sunday after she denounced racism while endorsing Democrats.
In a rare political turn, Swift posted on Instagram on Sunday her endorsements of Phil Bredesen and Jim Cooper in Tennessee. Those endorsements didn't sit well with many of Swift's conservative fans.
In response to a legal challenge from California and the city of San Francisco, the Trump administration's policy to withhold funding from "sanctuary cities" was struck down in court Friday.
U.S. District Court Judge William H. Orrick became the latest federal judge to rule against the policy, following previous decisions against it in Philadelphia and Chicago. Orrick found that by imposing the funding terms, the Trump administration violated the separation of powers and spending power stipulated in the U.S. Constitution.
Brett Kavanaugh ascended to the U.S. Supreme Court on Saturday over the widespread objections of women across the country — and one of his first actions was to install an all-female staff.
The new remake of A Star Is Born, directed by Bradley Cooper who co-stars with Lady Gaga, is something of a sensation. It's inspired memes and over-performed box-office expectations in its opening weekend. "Shallow," the most recognizable song from the film's soundtrack, was reportedly the best-selling song in the country as of Monday.
But, as A Star Is Born fever sweeps the nation, all of us lucky enough to have seen the film already are left with one lingering question: Just how much time actually passes over the course of that dang movie?