Hype Daily: Kanye West is apparently going to the White House to meet with Trump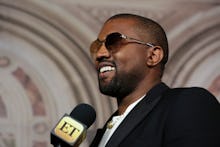 Welcome to Hype Daily, Mic's morning entertainment roundup. Here's everything you need to catch up on in the entertainment world and what to look forward to today. Want to receive this as a daily email in your inbox? Subscribe here.
Good morning crew, welcome aboard the good ship Hype Daily. Let's set sail on the rough seas of today's entertainment news, shall we?
Kanye West is going to the White House, apparently
After a strange Saturday Night Live appearence that ended in an off-air pro-Trump rant and his tweets about the 13th Amendment, Kanye West is headed to the White House. New York Times White House reporter Maggie Haberman reported on Monday evening that West is apparently scheduled to meet with President Donald Trump and his son-in-law, Jared Kushner, at the White House on Thursday.
West's wife, mega-celeb Kim Kardashian West, has had her own White House meetings with Trump, but this one seems to have a more confusing agenda. According to the Times, West and Trump will discuss criminal justice reform but also how to bring manufacturing jobs back to Chicago, and, let's be honest, they'll probably wind up talking about a whole bunch of other stuff.
Busy Philipps says James Franco was a "fucking bully" on the set of Freaks and Geeks
Actor and Instagram queen Busy Philipps got her start on the short-lived, but much-loved, 1999 TV show Freaks and Geeks, which also launched the careers of stars like Jason Segel, Seth Rogen and James Franco. Well, as Yahoo! Entertainment reported on Monday, Philipps says Franco was a "fucking bully" on the show's set in her new memoir, This Will Only Hurt a Little, due out Oct. 16.
In an excerpt from the memoir obtained by Radar Online, Philipps described a scary moment when she says Franco pushed her to the ground while they were filming a scene. "He grabbed both my arms and screamed in my face, 'DON'T EVER TOUCH ME AGAIN!'" the memoir reads. "And he threw me to the ground. Flat on my back. Wind knocked out of me."
Philipps says in the book that other people on set were shocked by Franco's behavior, and Franco was ordered to apologize to her. Just a reminder, James Franco has been accused of sexual exploitation or misconduct by at least five women.
Check out the first trailer for Dirty John
The first trailer for Dirty John starring Connie Britton and Eric Bana is here and it looks juicy as heck. In case you missed it, Dirty John was a gripping true crime podcast from Wondery and the Los Angeles Times, which detailed the real-life story of Debra Newell, a middle-aged interior designer, who met a man named John Meehan on a dating site. Meehan, as it turned out, was nothing at all like what he appeared to be and the podcast took several dark and disturbing turns.
And now that podcast is being adapted into a drama for Bravo, and the first trailer is here! Britton stars as Newell and Bana plays the manipulative Meehan. Watch the trailer here.
Dakota Johnson and Chris Martin are ... not having a baby?
False alarm everybody, stand down. After celebrity gossip outlet TMZ reported actor Dakota Johnson and Coldplay frontman Chris Martin were having a baby (because pink and blue balloons were spotted above Martin's home on Sunday), a rep for Johnson denied the rumors.
Johnson's team told People on Monday that no, she is not pregnant, and the balloons were just part of a birthday celebration. Well, I didn't even know the two of them were dating, so cool, I guess?
Put this on your radar: Dancing Queen
If you're a fan of RuPaul's Drag Race then you already know all about drag queen and former contestant Alyssa Edwards (tongue pop). But did you know Edwards, aka Justin Johnson, is the star of the new Netflix series Dancing Queen? The reality series follows Edwards as she teaches dance in small-town Texas. Check out a trailer here and read Edwards' interview with Mic here. Dancing Queen is, obviously, streaming on Netflix.