Today in Trump's America: Trump says Kavanaugh was "proven innocent" at ceremonial swearing-in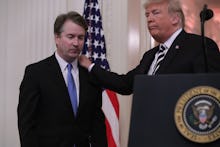 Welcome to Mic's daily read on Donald Trump's America. Want to receive this as a daily email in your inbox? Subscribe here.
Good morning from Emily Singer at Mic.
Here's what's happening in Trump's America:
• It's yet another day of campaign travel for President Trump, who this time is heading to Iowa — a state he won in the 2016 election but that polls show is trending back to its Democratic roots.
About last night: Trump holds what amounts to a victory rally for Kavanaugh at the White House
Supreme Court Associate Justice Brett Kavanaugh was sworn in on Saturday, but Trump held a separate ceremonial swearing-in for him Monday night at the White House. Republican lawmakers and Fox News personalities gathered to toast the judge's confirmation and praise Senate Republicans who voted to put him on the bench.
Trump gave remarks in which he claimed Kavanaugh was "proven innocent" of the sexual assault allegations levied against him. Of course, Kavanaugh was not proven innocent of the charges, and public polling shows more Americans believe his accusers than Kavanaugh.
"I want to apologize to Brett and the entire Kavanaugh family for the terrible pain you have been forced to endure," Trump said in his remarks.
"Those who step forward to serve our country deserve a fair and dignified evaluation, not a campaign of political and personal destruction based on lies and deception," he continued. "What happened to the Kavanaugh family violates every notion of fairness, decency and due process."
"The Senate confirmation process was contentious and emotional," Kavanaugh said. "That process is over. My focus now is to be the best justice I can be. I take this office with gratitude and no bitterness. On the Supreme Court, I will seek to be a force for stability and unity. My goal is to be a great justice for all Americans and for all of America. I will work very hard to achieve that goal."
This whole scene is quite unusual. In an effort to avoid the look of being too partisan, Supreme Court justices don't often take the oath at the White House.
"As Kavanaugh re-takes oath at White House this evening, worth noting that Sotomayor and Kagan didn't take oaths at White House. Obama wanted it that way as a symbol of their independence, administration officials said at the time," Bloomberg News' Supreme Court reporter Greg Stohr tweeted.
Today in Trump's America: Trump continues on the campaign trail
Trump will hit the road again on Tuesday to campaign for Republicans ahead of the midterm elections, this time to Council Bluffs, Iowa.
The town borders Omaha, Nebraska, and helps hit a few birds with one stone campaign rally-wise, as he can stump for Omaha's GOP Rep. Don Bacon, GOP Rep. David Young in Iowa's 3rd District, located in the southwestern quadrant of the state and Iowa's GOP Gov. Kim Reynolds.
All three face competitive re-election battles, despite the fact Trump performed well in this area in the 2016 campaign. Both Young and Reynolds races are rated "toss-ups" by the nonpartisan political handicapping outlet Inside Elections. Bacon's race, on the other hand, is rated "lean Republican."
Given that both Young and Reynolds' woes are a result of Trump's sinking approval in the Midwest, it's unclear how much a rally from the president will help their re-election bids.
Polls show Reynolds' Democratic opponent, Fred Hubbell, leading the race, and a recent New York Times/Siena College poll found Young's Democratic opponent, Cindy Axne, leading by a slim margin.
And the rest...
Ye and Trump reunite: Trump and his son-in-law, Jared Kusher, will meet with rapper Kanye West at the White House on Thursday to discuss job opportunities for former convicts, the New York Times reported. West has become a staunch Trump supporter, wearing his signature Make America Great Again hat during an appearance on Saturday Night Live in September.