Trump merchandise now includes "Stand Up for America" football jerseys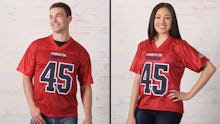 President Donald Trump's latest attack on NFL kneelers is to quite literally profit off opposition messaging in the form of merchandise sold on Trump's website.
The Stand Up for America Men's Football Jersey, which retails for $99 (the same price the NFL sells its jerseys for), has a 45 on the front and back and is embroidered with "Stand Up for America" on the front and "Trump" across the back. There's also an American flag on its sleeve.
The material is unknown, though the website stresses: "Due to high demand, please allow 4-5 weeks to receive your jersey."
Lara Trump, the president's daughter-in-law and senior adviser for Donald J. Trump for President, Inc, told the New York Post over the weekend the theme originated out of the president's love for the American flag and "his fervent belief that Americans should always stand for our national anthem."
This is perfectly in line with much of Trump's anti-kneeling rhetoric, which first began in September 2017, with a tweet in which Trump noted players should not be allowed to kneel.
This escalated quickly and by May, Trump outwardly said NFL players who kneel during the national anthem "maybe shouldn't be in the country." And it's continued, as recently as September, when Trump continued to take jabs at the NFL's declining ratings.
Still, where there's a profit margin, there's a Donald Trump, and so there are NFL-inspired jerseys that seem in line with the trolling we've come to expect from our commander in chief.
The product first went on sale on Sept. 7, coincidentally or perhaps not-at-all-coincidentally the same week it was announced Colin Kaepernick would be the face of Nike's 30th anniversary campaign.