5 under-the-radar House races that could bring election night surprises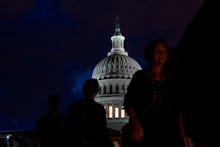 In a traditional midterm election cycle, onlookers tend to focus on the toss-up districts that determine which party will ultimately win control of the House. Lurking under the radar, however, are a number of districts held by one party — in 2018, it's the Republicans — that are gradually becoming more competitive and are prime for surprises on election night.
These districts aren't often mentioned in articles talking about the state of play for control of the House. Most still fall in the "likely Republican" column of the rankings, according to political handicapping outlets such as Inside Elections. Yet behind the scenes, party operatives are conducting polling in districts like these, and depending on results, begin spending money on advertising if they feel the races are close.
Here are five districts that are currently flying under the radar but could bring surprises Nov. 6.
Arkansas' 2nd District
Located in and around Little Rock, Arkansas' 2nd District is the least Republican of the Natural State's four House seats. President Donald Trump carried it by an 11-point margin in 2016, and GOP Rep. French Hill won re-election against a Democratic challenger by a larger 21.5-point spread.
But in this cycle, Democrats are enthusiastic about their nominee, state Rep. Clarke Tucker.
Tucker has made the race about health care, airing ads about his own battle with cancer and saying that Hill's vote for the GOP health care bill in December 2017 indicated the congressman would take away health care for people with pre-existing conditions like himself.
"When I was told I had cancer, my first thought was for my kids who need their dad," Tucker says in one of his earliest campaign ads. "Now I'm cancer-free, but thousands aren't as fortunate. So in the legislature, I worked to protect health care and hospitals here at home, and in Congress. I'll stand up to anyone who tries to take health care from Arkansans, especially those with pre-existing conditions. And we'll work to finally bring costs down."
Inside Elections, the non-partisan political handicapping outlet, rates the race as a "likely Republican" contest.
However, the Democratic Congressional Campaign Committee — House Democrats' political arm that seeks to elect Democrats to Congress — went up with a TV ad on Tuesday attacking Hill on health care. If anything, this is a sign that the DCCC has internal polling showing the race is within reach, and is now one to watch as Election Day draws near.
Illinois' 14th District
Located in the far-reaching Chicago suburbs, Illinois' 14th District is not even on Inside Elections' list of competitive races. Democratic groups, however, have begun to spend in this district, which Trump carried by a 4-point margin in 2016, signaling that it is now in the field of competitive seats.
GOP Rep. Randy Hultgren, who was swept into power in the 2010 Republican wave, is facing off with Lauren Underwood, a former official in Obama's Department of Health and Human Services. Hultgren won re-election in 2016 against an unknown Democratic opponent by nearly 19 points — far higher than Trump's margin in the district.
A recent New York Times/Siena College poll found Hultgren has a slim 47%-43% lead over Underwood, within the poll's margin of error.
And House Majority PAC — a Democratic super PAC with a mission to elect Democrats to the House — went up on air with ads in this district on Oct. 3 hitting Hultgren for voting for the Republican health care plan in 2017.
"Career politician Randy Hultgren has stopped working for us," a narrator says in the 30-second spot, which is backed by $887,000, according to a House Majority PAC news release. "During his 20 years in Springfield and Washington, he's taken over a half million dollars from the insurance industry and voted to gut protections for people with pre-existing conditions. Hultgren would even allow insurance companies to hike insurance premiums on older Americans. AARP calls it an age tax. It's time to stop Randy Hultgren."
Keep an eye on this district as the election nears.
New York's 24th District
This Syracuse-based House seat votes for Democrats at the presidential level. Hillary Clinton carried it by a 4-point margin in 2016, while former President Barack Obama carried it by a 16-point spread four years earlier.
Yet in 2016, GOP Rep. John Katko outperformed the district's Democratic bent, winning re-election with a whopping 60% of the vote.
Inside Elections rates New York's 24th District a "Likely Republican" contest. But House Majority PAC announced on Oct. 3 that they'll spend $1 million in this district to unseat Katko.
The ad they released focuses on Katko's vote for the GOP tax plan, which could raise taxes on some New York families.
"They depended on that deduction, but Congressman Katko voted to take it away, giving the top 1 percent 83% of the tax breaks, adding nearly $2 trillion to the debt. Their next move, cut medicare and social security. The AARP warned it will increase premiums up to $1,500 more a year. Congressman Katko puts them ahead of us."
In a wave election year, even popular politicians in the president's party could be on the list to lose. And Katko is on that list.
Pennsylvania's 10th District
House districts in the Keystone State were redrawn for this cycle after a court ruled the old congressional map violated the Pennsylvania Constitution.
The new 10th District, located in and around the state capital of Harrisburg, is a little less friendly to Republicans, but Trump still carried it by a 10-point spread — which would make it a safe GOP seat in a neutral year.
2018 is not a neutral year, though, and as such, Republican Rep. Scott Perry could be in for a surprise come Election Day. Perry faces veteran and Lutheran minister George Scott.
The DCCC placed an ad buy in the district, a sign the race is becoming competitive.
West Virginia's 3rd District
It's hard to believe a district Trump carried by 49 points could be competitive. Yet here we are, 26 days from a midterm election, with evidence West Virginia's 3rd District could be within the Democrats' reach.
The seat is vacant thanks to former Rep. Evan Jenkins' failed primary bid, after which he resigned from Congress to take a seat on the West Virginia Supreme Court.
Democrats are in the running for this seat thanks to their nominee, Richard Ojeda, a state senator and military veteran who fits this ancestrally Democratic district. Ojeda faces off with Carol Miller, the majority whip in Virginia's state House.
The DCCC released an internal poll in September showing Ojeda leading Miller, 48% to 44%.
Miller has been attacking Ojeda in an ad accusing him of saying "the United States of America is not the greatest country." The ad features a veteran who says Ojeda is "stepping on the graves of every dead soldier."
That attack ad led Ojeda to release an angry response in which he defends his own military service.
"I'm Richard Ojeda, and I've been under fire multiple times in places like Iraq and Afghanistan," Ojeda says in the ad. "Tattooed on my back are the names of my brothers who did not come home. Now, my military record and my love of this country has come under fire once again by Carol Miller. How dare she? A millionaire who has enjoyed a life of privilege under the very freedoms that I have fought for. I approve this message because I love this country and am willing to fight for it. And you."
Inside Elections currently rates this a "lean Republican" race. But don't sleep on this district on election night.
Correction: Oct. 10, 2018