Kanye West talks Chicago with Trump, who has long used the city as an example of "American carnage"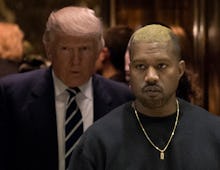 President Donald Trump will meet with rapper Kanye West on Tuesday to discuss a variety of issues, including job opportunities in Chicago — the city Trump has long used as a rhetorical punching bag and whose gun violence he has proposed controversial solutions for.
West, a vocal Trump supporter, will reportedly discuss job opportunities for ex-convicts and manufacturing jobs in Chicago with Trump and his son-in-law, Jared Kushner.
The meeting comes a day after Trump, during an address to law enforcement officials, called for Chicago to implement a "stop and frisk" policy to address the city's gun violence.
"We're going to straighten it out, and we're going to straighten it out fast," Trump told a gathering of law enforcement officials in Orlando, Florida, adding he'd directed the Department of Justice to visit Chicago.
"Let's see whether or not Chicago accepts help," Trump said. "They need it."
Trump has long used Chicago as a symbol of the "American carnage" plaguing U.S. cities he decried in his inaugural address in January 2017. That same month, he tweeted he'd "send in the Feds" to address gun violence there.
Chicago has long struggled with gun violence, with the city suffering 588 homicides in 2016 and 551 in 2017. As of Monday, 419 had been killed in Chicago so far in 2018, according to the Chicago Tribune.
Trump's armchair violence solutions, however, have not been welcomed by the city.
In 2015, then-candidate Trump told the Tribune that Chicago police needed to get tougher to curb the violence. "You're not going to stop it by being nice. You're going to stop it by being one tough son of a bitch," Trump said.
But according to a 2017 Justice Department report, Chicago police had been engaging in a "pattern or practice of using force, including deadly force, in violation of the Fourth Amendment of the Constitution."
That investigation by then-Attorney General Loretta Lynch was launched in December 2015, following the police killing of black teenager Laquan McDonald. Jason Van Dyke, the Chicago police officer who shot and killed McDonald, was convicted Friday of second-degree murder and aggravated battery with a firearm.
Trump's call for tougher policing in Chicago came Monday, just days after the Van Dyke verdict. He called for the city to implement a "stop-and-frisk" policy similar to the one Rudy Giuliani instituted as mayor of New York City, which has been criticized as racial profiling.
"It works, and it was meant for problems like Chicago," Trump said.
Chicago Mayor Rahm Emanuel, whose decision not to run for re-election has been seen as a result of his handling of the McDonald shooting, rejected the president's suggestion, saying such a policy would be "antithetical" to the city's anti-violence initiatives.
"The failed policies he's talking about have no place for a city that's working together with communities about how to build not only trust, but a collaborative and cooperative relationship," Emanuel said at an event Monday. "The idea of what President Trump's talking about is not only not welcome, it's antithetical to what we're working on. And that is about a strong proactive professional police department."
West, who was born in Atlanta but raised in Chicago, is expected to meet first with Kushner, a senior adviser to the president. He is then expected to have lunch with Trump, whom he has unabashedly supported in social media posts and bizarre public appearances.
Manufacturing jobs in Chicago are among the topics the rapper is expected to discuss with Kushner and Trump. Violence in the city has been linked in studies to lack of economic opportunity.