No, LaCroix doesn't contain insecticide — here's what's actually in the sparkling water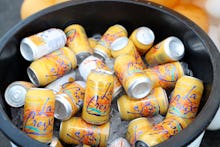 Lovers of LaCroix can rest easy — headlines may claim the beloved sparkling water includes insecticide, but that's far from the reality, according to one food safety expert.
On Sunday, CBS Philly reported a class-action lawsuit had been filed against National Beverage Corp., LaCroix's parent company. The claimant alleged the company falsely advertised its massively popular beverage as "all natural," pointing out an artificial ingredient used in cockroach insecticide, among other compounds.
"The plaintiff [Lenora] Rice, desiring a healthy, natural beverage, was led to purchase LaCroix sparkling water because of the claims made on its packaging, advertising and web site to be 'innocent,' 'naturally essenced,' 'all natural' and 'always 100% natural,'" the lawsuit, obtained by CBS Philly, states. "However, LaCroix in fact contains ingredients that have been identified by the Food and Drug Administration as synthetic. These chemicals include limonene, which can cause kidney toxicity and tumors; linalool propionate, which is used to treat cancer; and linalool, which is used in cockroach insecticide."
LaCroix enthusiasts have been up in arms with the news of possible insecticides in their sparkling beverage. But the dramatics might be overblown, Roger Clemens, a food safety expert and adjunct professor at the University of Southern California's School of Pharmacy, said in a phone interview with Mic. A chemical like linalool is commonly used in a number of citrus products, like lemon-lime sodas, essential oils and deodorants and shouldn't be cause for concern, Clemens said. Moreover, the levels of these ingredients are likely too low to have any real impact on consumers.
"The issue really is the amount to which someone is exposed that makes the difference," he said.
Despite the headlines, the beverage itself doesn't contain any insecticide — it simply contains a chemical that's found in insecticide.
What the lawsuit actually argues is that LaCroix isn't the "all natural" drink it claims to be. That leads to the real question: Does it matter that LaCroix contains some synthetic substances? Not so much, Clemens said.
"I think people are frightened by the word 'synthetic' far too often," he said. "Many people think that synthetic is not safe and that 'natural' is congruent or the same as safe. [...] But I can show you many compounds that are natural that will hurt you."
"I think people are frightened by the word 'synthetic' far too often." — Roger Clemens
"Natural" is a vague, catch-all term with hardly any real meaning, and it's not formally regulated by the FDA. Still, a 2015 study conducted by Consumer Reports found that 62% of shoppers report buying foods labeled "natural" — and that most of them think this label means more than it does.
National Beverage Corp. issued a statement in response to the lawsuit and denied all allegations.
"All LaCroix product labels include an ingredient statement indicating each product contains carbonated water and natural flavors," the statement reads. "National Beverage stands by that ingredient statement and the fact that all the flavor essences in LaCroix are natural. National Beverage will vigorously seek actual and punitive damages among other remedies from everyone involved in the publication of these defamatory falsehoods."
LaCroix, too, has responded to the lawsuit on Twitter.
"We are proud to serve LaCroix to our families, in our hospitals and in our schools," the company tweeted. "Please stand with us as we defend our beloved LaCroix."