Kavanaugh battle bolsters Democrats to wide lead in generic congressional ballot, poll finds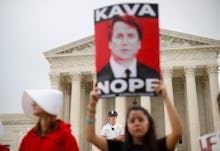 Republicans have been crowing about Brett Kavanaugh's confirmation to the Supreme Court, saying the nomination battle injected much-needed enthusiasm into its base and improved the party's chances in the November midterms.
A new CNN poll released Tuesday, however, said the opposite.
The poll found registered Democrats are now more enthusiastic about voting for Congress in 2018 than at any other time this election cycle, which has helped the Democratic Party widen its lead on the generic congressional ballot — a leading indicator of which party will control Congress.
According to the poll, 40% of registered Democrats are "extremely enthusiastic" about voting in November, up from 33% a month ago. Meanwhile, just 29% of registered Republicans said the same, down from 30% in September.
As for the generic congressional ballot, the CNN poll found Democrats with a 13-point lead among likely voters, with 54% of respondents saying they would vote for the Democratic Party's candidate and 41% saying they planned to vote for the GOP nominee. That's an increase from September, when the numbers were 52% and 42%, respectively.
In fact, Democrats' generic congressional ballot lead is the widest in a midterm election cycle since 2006, when Democrats won control of the House and Senate in a massive wave.
Democrats' wide lead is built by support from women, according to the poll. Nearly two-thirds, or 63%, of likely women voters said they will vote for the Democratic congressional nominee in November, compared to 33% of likely women voters who said they'll vote Republican.
The poll showed men to be more closely divided, with 45% of likely male voters saying they'll back Democrats this fall and 50% saying they'll back Republicans.