Nikki Haley brought Trumpism to the UN under the guise of moderation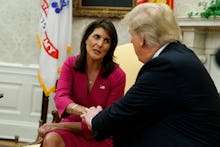 Nikki Haley has for the better part of two years occupied an odd place in Trumpworld.
As the United States envoy to the United Nations, she has been one of the faces of the administration's interventionist wing — while also serving as the mouthpiece for President Donald Trump, who has publicly sought a more isolationist approach to global affairs.
She has barely veiled her own grand political ambitions — but has largely avoided drawing the ire of the president, who appears to view the aspirations of those around him as a threat to his own power.
And she's largely managed to stay out of the muck Trump has dragged others in his administration into — even as she's avoided, with a couple notable exceptions, publicly distancing herself from the president and his chaotic administration.
It was a tower of contradictions that came tumbling down Tuesday when it was announced that she'll be resigning her post — a move that reportedly took some top Trump officials by surprise.
It's unclear exactly what triggered the resignation; Trump told reporters Tuesday that she said she wanted to "take a little time off ... take a break." It's also unclear who will replace her when she gives up her ambassadorship at the end of the year. Trump has kept his cards close to the vest, according to CNN, and will announce her successor within the next three weeks.
But she'll leave her job this year with a mixed legacy: one in which she frequently appeared to be one of the most stable, traditional political figures in an administration characterized by tumult and political novice, but also served to undermine the goals of the very organization Trump appointed her to represent the U.S. before.
"Haley has attempted to cultivate a reputation as a reasonable, principled moderate but her U.N. tenure (and entire political career) shows that she walks in lock step with Trumpism," Erica Fein, advocacy director at Win Without War, a progressive national security advocacy program of the Center for International Policy, said in an email interview. "Rather than protect and strengthen the United Nations, she has worked to tear it down."
Trump has repeatedly shown hostility toward the U.N., including in his address to the international body's general assembly last month in which he railed against globalization.
Haley has mirrored Trump's combative approach, helping pull the U.S. out of the U.N. Human Rights Council in June and at times even threatening to withdraw the U.S. from the U.N. entirely.
"She has made a mockery of the notion that the United States supports the U.N.'s mission to promote international peace and security," Fein said.
But while some of her actions and rhetoric have supported Trump's isolationist, "America first" vision, she's also been part of what an anonymous administration official termed in a September New York Times op-ed as the "two-track presidency."
While Trump has shown "a preference for autocrats and dictators," the anonymous official — once believed to be Haley — wrote, others in the administration have been "operating on another track."
Indeed, Haley has remained hawkish on countries like Russia, with whom Trump has sought warmer relations. Outside of foreign policy, she's also broken with Trump over his handling of the deadly white nationalist rally in Charlottesville in 2017 and said that the women who have accused the president of sexual misconduct should be "heard."
All that has allowed her to mostly stay out of the chaos that has engulfed much of the rest of the Trump administration — something that could come in handy should she eventually run for higher office, as many believe she's poised to do.
But her resignation also comes as she faces ethics questions over flights on private jets — concerns similar to those that eventually brought down other Trump officials like former Health and Human Services Secretary Tom Price and former Environmental Protection Agency Director Scott Pruitt.
It also comes as she reportedly lost influence within the administration since Rex Tillerson departed as secretary of state.
But despite reports that her voice within the administration had been muted in recent months, Trump on Tuesday had nothing but praise for his outgoing U.N. ambassador, telling reporters in the Oval Office that he'd welcome her back to his team if she so chose and that she "gets it."
"She's done a fantastic job and we've done a fantastic job together," Trump said, with Haley sitting by his side. "We've solved a lot of problems and we're in the process of solving a lot of problems."
For her part, Haley on Tuesday lavished praise on Trump, saying that the U.S. was now "respected" because of his leadership.
"Countries may not like what we do, but they respect what we do," Haley said.