Your guide to which Oscar favorites suit you best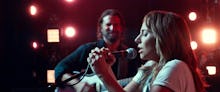 Fall is here, which in the movie world means awards season has arrived, and this year's is shaping up to be a more exciting one than usual. The slate of forthcoming awards hopefuls impressively features a range of subjects and genres, as well as on-screen representation. Real Oscar hounds will of course try to see as many of the potential contenders as possible, but not everyone has the time. That's where I'm here to help, with a guide to some of the top awards bait to suit anyone's interests.
For the people who want to see Hollywood at its best… A Star Is Born
By most measures, A Star Is Born — already making waves at the box office and inspiring countless memes online — is currently leading the pack of Oscar contenders, and for good reason. The third remake of a story that dates back to the 1930s, this new A Star Is Born follows Bradley Cooper's gravelly voiced Jackson Maine, a famous country-rock musician who discovers and falls in love with a talented, aspiring singer-songwriter named Ally, played with surprising down-to-earth naturalism by Lady Gaga.
Ally's rise to fame and Jackson's spiral into alcoholism serve as the fuel for some gorgeous, romantic melodrama set in the world of music. This also serves as Cooper's directorial debut; the multi-hyphenate delivers a nearly perfectly crafted work of old-school prestige filmmaking, giving the film a real intimacy to serve its mythic-level story. Gaga, though, is the true highlight, proving herself a seriously talented acting force with a nuanced performance. A Star is Born is the ideal Hollywood film, and that's a high compliment.
For those who dream of different kinds of stars… First Man
Ryan Gosling plays Neil Armstrong in the new film from La La Land director Damien Chazelle. Now, one might typically expect a biopic about a "great man" in American history to be a brash, flag-waving affair, but First Man (Oct. 12) offers a more stripped back, viscerally intense story about the high risk and human cost the early space program entailed. (Also, don't expect too many flags.) When Armstrong takes flight, it's scary — we're watching someone get shot into space inside what's basically a rickety tin can. And Chazelle's camera-work, close up and shaking, makes it clear how precarious those early NASA missions really were.
The film's backbone, though, is the relationship between Gosling's Armstrong and his wife, Claire Foy's Janet. Far from being relegated to the woman waiting at home by the phone, she helps provide the picture's center of gravity, and their connection always brings us back to Earth. While this is a story of human accomplishment, Chazelle looks inward, finding the human fragility behind that one small step.
For those who are looking for emotional coming-of-age stories… Beautiful Boy and Boy Erased
At the Toronto International Film Festival this year, Timothée Chalamet and Lucas Hedges both arrived in big ways, cementing their places as two of the most exciting young actors working today. In Beautiful Boy (Oct. 12), Chalamet stars as a teenager suffering through an opioid addiction while his father, played by Steve Carell, tries to help him. Boy Erased (Nov. 2) features Hedges as a teen whose religious Christian parents, played by Russell Crowe and Nicole Kidman, put him through gay conversion therapy.
Beautiful Boy and Boy Erased have both won praise for their central performances and affecting stories about young people facing overwhelming hardships. Neither film presents its main character's journey as easy, but that only makes them feel even more poignant and true to life.
For the genre lovers… Widows
12 Years a Slave director Steve McQueen brings his singular eye to pure genre territory in Widows (Nov. 16), infusing the slick thrills of a classic '70s heist picture with the modern politics of race, gender and urban income inequality. Three women lose their husbands in a criminal heist gone wrong, and when the crime lord their husbands stole from comes calling, looking for the money, the widows decide to pull off a dangerous heist of their own.
Viola Davis leads the cast of Widows, which also includes Michelle Rodriguez and Elizabeth Debicki as the two other widowed women taking part in the heist, Cynthia Erivo as a handy babysitter who helps them out, Brian Tyree Henry and Daniel Kaluuya as the crooks they're indebted to, and Colin Farrell and Robert Duvall as a corrupt father-and-son local political dynasty. Inspired by an '80s British TV series from McQueen's youth and co-written by McQueen and crime-fic visionary Gillian Flynn, Widows might not have the same sort of glossy veneer as other awards fare, but there's no denying this project's pedigree.
For the politics junkies... The Front Runner and Vice
Given the current political climate, it's not surprising that stories about the ballot box would come to the box office. In Jason Reitman's The Front Runner (Nov. 6), Hugh Jackman stars as former Sen. Gary Hart, who in 1988 ran in the Democratic Party primary for president only to be taken down by a scandal over an extramarital affair. (Remember when that was enough to derail someone's political career?)
Meanwhile, The Big Short director Adam McKay is also back with Vice (Dec. 25), a biopic about Dick Cheney starring a fully transformed Christian Bale, who put on weight — and a bald cap, of course — for the role. While Vice (which also stars Sam Rockwell as George W. Bush, Amy Adams as Lynne Cheney and Steve Carell as Donald Rumsfeld) promises to be a more comedic take on recent American political history, both films appear designed to draw parallels from the past to our present moment. Expect plenty of thinkpieces drawing comparisons to the #MeToo movement and, well, any number of Trump-related policies and scandals.
For the people who need a pick-me-up in the Trump era… Green Book
Green Book (Nov. 21) has been talked about as a reverse-Driving Miss Daisy, but judging by its critical reception and People's Choice Award win at the Toronto International Film Festival, the film offers a far more compelling, nuanced and powerful take on race relations. The film tells the true-life story of Jamaican-American classical pianist Don Shirley, played by Mahershala Ali, and his driver Tony Lip, played by Viggo Mortensen, as they go on tour in the segregated Deep South in the 1960s. Peter Farrelly — yes, of the Farrelly Brothers fame — directs, turning in a story that's, by all accounts, funny, sweet and an emotional exploration of racism in America.
For fans nostalgic for lush, 20th-century romance… If Beale Street Could Talk
Moonlight director Barry Jenkins returns to the big screen with his sumptuous and devastating adaptation of James Baldwin's classic 1974 novel If Beale Street Could Talk (Nov. 30). The film, set in '70s Harlem, stars KiKi Layne as Tish, whose lover, Fonny, played by Stephen James, is imprisoned over a false rape accusation. But far from focusing simply on the oppression its characters face, Beale Street is a celebration — of the vibrancy of black life in Harlem, the warm embrace of family, and the power of love to get people through the most difficult times. With its beautiful, earthy cinematography, and its incredible score, Jenkins, who was working on the script for Beale Street at the same time he was writing 2016's Moonlight, brings Baldwin's humanistic prose to life with no small amount of romance and heartache.
For the foreign film lovers... Roma
Mexican director Alfonso Cuarón returns with another opus, but he's parlayed his huge success with 2013's Gravity into something completely different. Roma (Dec. 14 in theaters and on Netflix) is a black-and-white semi-autobiographical epic set in 1970s Mexico City. The film garnered wide acclaim at TIFF and the Venice Film Festival, so much so that Netflix may be looking at their first ever Best Picture nominee.
Roma follows Cleo, played beautifully by newcomer Yalitza Aparicio, a live-in maid for an upper-middle-class family slowly being torn apart by the patriarch's infidelity. Set against the backdrop of class conflict in the streets, and shot on a wide digital 65mm format, Roma examines the complicated relationship between Cleo and the family she works for, rendered with both the quiet intimacy and immense grandeur encapsulated by a single life.