Lady Gaga co-writes new op-ed about suicide and mental health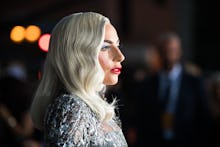 Lady Gaga's new film A Star Is Born may be a music industry melodrama at its surface, but it's also a movie with a serious message about mental health and a pivotal character death by suicide.
In a new op-ed for the Guardian published on Tuesday, Gaga, along with World Health Organization director general Tedros Adhanom, urged readers to confront the shame and stigma that keeps people from speaking out about mental health.
Gaga and Adhanom mentioned some of the high-profile celebrities who've died by suicide over the past year, including celebrity chef Anthony Bourdain and designer Kate Spade. They also lay out the numbers, writing that 800,000 will die by suicide this year — making it an issue that transcends geography.
"One in four of us will have to deal with a mental health condition at some point in our lives, and if we're not directly affected, someone we care for is likely to be," the op-ed reads. "Yet despite the universality of the issue, we struggle to talk about it openly or to offer adequate care or resources. Within families and communities, we often remain silenced by a shame that tells us that those with mental illness are somehow less worthy or at fault for their own suffering."
The op-ed also mentioned new research they hope will help in "scaling up" the global push to provide access to mental health care, turning it into a worldwide effort, "similar to the movement for HIV/AIDS."
This recent op-ed has come out just in time for World Mental Health Day, which is observed on Wednesday, but Lady Gaga is no stranger to mental health advocacy work. Her Born This Way Foundation lists "Mental Wellness" as one of its stated goals, and she's spoken about her own experience with depression. In a 2015 interview with Billboard, she said, "I've suffered through depression and anxiety my entire life. I still suffer with it every single day," and spoke about the fans who inspired her to devote her philanthropic work to youth mental health.