Mic Daily: Kavanaugh energizes Democrats ahead of the midterms — and other news of the day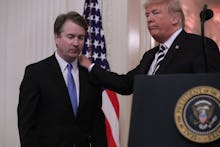 Welcome to Mic Daily: Mic's newsletter that cuts through the noise and lands in your inbox every weekday. We carefully curate each edition to send you a cross section of our most vital stories of the day.
Want more entertainment news in your inbox? Sign up for Hype Daily — Mic's morning entertainment briefing. It's got all the news you need to start your day.
On Tuesday, it was announced that Nikki Haley was leaving her post as ambassador to the United Nations. She has, for the better part of two years, occupied an odd place in Trumpworld.
As the country's envoy to the U.N., she has been one of the faces of the administration's interventionist wing — while also serving as the mouthpiece for President Donald Trump, who has publicly sought a more isolationist approach to global affairs.
Republicans have been crowing about Brett Kavanaugh's confirmation to the Supreme Court, saying the nomination battle injected much-needed enthusiasm into its base and improved the party's chances in the November midterms.
A new CNN poll released Tuesday, however, said the opposite.
In 2014, fewer than 10% of U.S. plastic products were recycled; recent research says nearly 75% of all plastic ended up in landfills.
Historically, the U.S. exported one-third of all its recyclables, curbing the problem of garbage piling up in our own backyards. But that all changed when China put a stop to its import of plastic waste in January. Now, America faces a serious question: What do we do with all this trash?
Pieter Hanson, a Florida-based veteran, became the face of the Twitter hashtag #HimToo without his knowledge on Monday. A Twitter fiasco ensued and Hanson later had to do damage control.
I mean, the headline kinda says it all.