Hype Daily: Here's what you missed at the AMAs and more entertainment news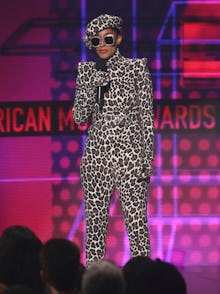 Welcome to Hype Daily, Mic's morning entertainment roundup. Here's everything you need to catch up on in the entertainment world and what to look forward to today. Want to receive this as a daily email in your inbox? Subscribe here.
Happy hump day, readers. Or, as they say in my hometown of Boston, Massachusetts, let's go to Dunkies. Anyway, here's the latest entertainment news.
If you didn't watch the American Music Awards, here's what you missed
The annual American Music Awards happened Tuesday night in Los Angeles. (Think of it as the Grammys' younger, laid-back cousin.) In case you didn't watch, here's a quick recap of what you missed: Taylor Swift opened the show with a performance of "I Did Something Bad," Missy Elliott and Ciara performed "Level Up," Camila Cabello performed her new single "Consequences" and won the award for favorite new artist and Gladys Knight closed out the show with a powerful tribute to the late, great Aretha Franklin.
And the AMAs got a little political, too, with host Tracee Ellis Ross, presenter Billy Eichner and Taylor Swift all encouraging viewers to vote in the midterm elections, and Khalid using his acceptance speech as a chance to mention Senate candidate Beto O'Rourke of Texas. "Before I go, shout out to the 915, to El Paso, Texas, shout out, Beto. Thank you," Khalid said onstage.
James Gunn might direct a Suicide Squad sequel
Former Guardians of the Galaxy director James Gunn, who was ousted by Disney in July after some right-wing personalities dug up Gunn's old, offensive tweets, seems to have found a new gig.
Vanity Fair reported on Tuesday that Gunn is in talks to take over the Suicide Squad franchise and will write a sequel, or at least some sort of follow-up, to 2016's critically panned Suicide Squad film, which brought together a team of DC comic book villains. That's right, Gunn is hopping right from the Marvel Cinematic Universe to the DC side of things, and reports indicate Guardians star Dave Bautista is ready to jump ship, too, and come join Gunn on his next adventure. But can anyone really save Suicide Squad?
Celebrities really want you to register to vote
Famous people really, really want to let you know about the midterm elections. Tuesday marked the deadline for registering to vote in a bunch of U.S. states, and more deadlines are coming up. (Check out a helpful state-by-state list here.) After Taylor Swift posted a political call to action on her Instagram on Sunday, voter registration reportedly surged across the country.
But Swift isn't the only celeb urging eligible Americans to exercise their right to vote — on Tuesday, pop goddess Rihanna tweeted out a list of registration deadlines along with the message, "GOOD MORNING AMERICA I don't care what responsibilities you have today. There's no greater responsibility than being in control of your future and it starts NOW!! REGISTER TO VOTE TODAY at Vote.org & triple check that you are properly registered! Let's go!!"
And speaking of Marvel, MCU star Mark Ruffalo responded to a fan asking him about the title of the upcoming Avengers movie on Twitter by saying, "It's Avengers 4: Register to Vote." In case you somehow forgot, midterm elections are Nov. 6.
The next Met Gala theme has been revealed
Each spring, the annual gala that kicks off the Metropolitan Museum of Art's Costume Institute exhibition is a chance for celebrities to see and be seen, all in their finest couture. This past May's memorable theme was "Heavenly Bodies: Fashion and the Catholic Imagination," and the celebs sported looks inspired by the Catholic Church. As we learned on Tuesday, next year's gala will have a very, very different look.
The New York Times reported the theme of the Met's Costume Institute exhibition in 2019 will be "Camp: Notes on Fashion," and the annual gala will be co-chaired by a group that includes Harry Styles, Anna Wintour, Lady Gaga and Serena Williams. Expect bright colors, pop-culture references and, hopefully, a lot of drag influence.
Put this on your radar: Crazy Ex-Girlfriend comes back on Friday
The nearly always excellent comedy-musical show Crazy Ex-Girlfriend returns for its fourth and final season on Friday, so mark your calendars everyone. This season finds the show's hero, Rebecca Bunch, played by show co-creator Rachel Bloom, in prison for some stuff she did. Check out a clip of the show's spin on "Cell Block Tango" from Chicago and tune in to the premiere on Friday at 9 p.m. Eastern on The CW.