Cardi B, Jennifer Lopez and more best-dressed stars on the 2018 American Music Awards red carpet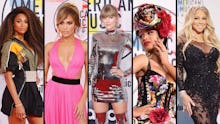 Tyra Banks. Macaulay Culkin. Amber Heard. John Stamos. Cobie Smulders. Taran Killam. Kyle Richards. These are just a few of the stars on hand at the red carpet for the 2018 American Music Awards. There were, of course, musicians on hand, but this year's carpet made space for an overwhelming amount of nonsingers.
Oh sure, at the awards show, we got our first red carpet appearance by Taylor Swift since the Billboard Music Awards in May, the debut of Mariah Carey's new single "With You" and a powerful Aretha Franklin tribute anchored by Gladys Knight and featuring Ledisi, Mary Mary, Donnie McClurkin and CeCe Winans. But the show, and by proxy the fashions, felt strangely redundant.
This could perhaps be award show fatigue, having come off a lackluster MTV Video Music Awards in August, but something about Tuesday night's show felt notably unenthused. Swift wore Balmain. Cardi wore Dolce & Gabbana. J. Lo wore a plunging neckline Georges Chakra. We've seen this all before.
Everyone looked good, but did anyone look great? You decide.
Taylor Swift
Chloe x Halle
Carrie Underwood
Jennifer Lopez
Cardi B
Rita Ora
Halsey
Evan Ross and Ashlee Simpson
Camila Cabello
Dua Lipa
Poppy